5.8G wireless bridge
Product Detail
Product Tags
5.8G  wireless bridge
Product Features:
The 450Mbpsbps high-speed rate and the NAT high-conversion rate
CF-CPE450K uses 802.11an technology to provide a wireless access speed of up to 450Mbpsbps, which is about twice that of 802.11/b/g/n products in the same environment. At the same time, the conversion rate of NAT is> 93%, realizing a faster download and upload speed through the Internet, and surfing on the Internet at will.
Transparent, highly efficient and energy-efficient
The product supports IEEE802.3az, which can enter the low-power mode in a transceiver without a sending frame. When a new frame arrives, the transceiver will return to the active mode in several microseconds, thus achieving an almost transparent energy saving to the upper layer of the protocol. The energy consumption can be automatically adjusted according to the actual flow of the port, which can be quickly converted between full-speed operation and low-power idle mode, saving 30% of the power consumption for users, and greatly saving the operating cost.
Beam forming technology
Through the wave speed forming technology, can automatically adjust the size of the signal weighted value of each array in the array, the antenna direction of zero alignment interference direction and suppress the interference, enhance the system useful signal detection ability, optimize antenna direction, and can effectively track the useful signal, suppress and eliminate interference and noise, even in the close distribution of multiple interference and the same frequency, can successfully suppress the interference.
The pairing is simple and efficient
Without network expertise, no computer operation, the point-to-point, point-to-point, point-to-point (up to the same value.
Support for 5G full frequency band
Supported channels are 36,40,44,48,52,56,60,64,149,153,157,161, and
182,186,190,194 Special channels are not open by default, and can be opened when needed.
Technical Parameter:
Model

CF-CPE450K

Fixed Port

1*10/100Mbps 24V PoE PD port

1*DC5521 12VDC power port

Ethernet Port

10/100Base-TX auto-sensing,Full/half duplex MDI/MDI-X self-adaption

Working Frequency

5.8G:450Mbps 802.11b/g/n MIMO

DDR2 Memory

64MB

Flash

8MB

Reset Switch

 Press for 15 seconds and release to restore factory settings

LED Indicator

System: SYS (green), network: NET (green), signal indicator: (green)

Power Supply Mode

12VDC or 24V Passive PoE power supply

Operation TEMP / Humidity

-40~+70°C;5%~90% RH Non condensing

Storage TEMP / Humidity

-40~+75°C;5%~95% RH Non condensing

Dimension (L*W*H)

260mm×100mm×45mm

Lightning protection / protection level

Port lightning protection: 6KV 8/20us; Protection level: IP61

Certification

FCC, CE -EMC /LVD/RF, RoHS

Warranty

3 years, lifelong maintenance.

RF characteristics

Frequency range

ISM波段: 4.900GHz ~ 5.850GHz

Channel distribution

5G:36、40、44、48、52、56、60、64、149、153、157、161、182、186、190、194 

receiver sensitivity

11a: 72dbm@54Mbps, 11n: -70dbm@MCS7, 

EVM

802.11n: ≤-28 DB 

Frequency offset

±20ppm
Product Size: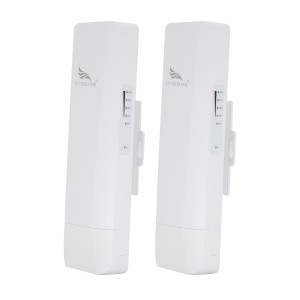 ---
Next:
5.8G wireless bridge
---
Write your message here and send it to us