26-port 10/100M/1000M Industrial Ethernet Switch
Product Detail
Product Tags
Product Features:
Introducing the 26-port Gigabit industrial switch from Huizhou changfei photoelectricity technology co.,ltd. This advanced switch is designed to meet the needs of businesses that require robust and reliable network connectivity in industrial environments. With its impressive array of features, this switch is the perfect choice for businesses looking for a high-quality and efficient network solution.
The 26-port Gigabit industrial switch is equipped with 2 SFP optical ports and 24 electrical ports, providing users with versatile connectivity options. The optical ports enable long-distance data transmission, ensuring seamless communication between devices, even in challenging environments. The 24 electrical ports offer high-speed connectivity for devices that require a wired connection. With this switch, businesses can easily connect and manage a wide range of devices, such as computers, servers, IP cameras, and more.
Huizhou changfei photoelectricity technology co.,ltd. is a leading provider of overall transmission solutions and has gained extensive experience in research and development of optoelectronics products. With a focus on quality and innovation, the company has garnered praise from over 360 distributors and agents in more than 100 countries worldwide. When you choose our products, you can be confident that you are investing in cutting-edge technology and exceptional performance.
One of the standout features of the 26-port Gigabit industrial switch is its environmental adaptability. This switch is designed to withstand harsh conditions, making it ideal for use in industrial settings. It operates flawlessly in temperatures ranging from -40°C to 75°C and is resistant to dust, humidity, and vibrations. Whether you need to deploy a network in a factory, warehouse, or outdoor environment, this switch can handle the challenges.
The stability of network output is crucial for businesses to ensure uninterrupted operations. With the 26-port Gigabit industrial switch, you can rely on consistent and reliable performance. This switch utilizes advanced technology to minimize network downtime and ensure smooth data transmission. With its high-speed connection capabilities, it supports bandwidth-intensive applications and enables fast and efficient data transfer.
To further enhance reliability, this switch features dual power supply redundancy. It is equipped with redundant power inputs, allowing for seamless switch-over between power sources in case of a failure. This ensures that your network remains up and running without any disruptions, even in the event of a power supply failure.
Installation of the 26-port Gigabit industrial switch is quick and straightforward. It comes with standard DIN rail mounting options, providing flexibility in deployment. This switch can be easily integrated into existing network infrastructures, making it an ideal choice for businesses looking to upgrade their networks or expand their operations.
In conclusion, the 26-port Gigabit industrial switch from Huizhou changfei photoelectricity technology co.,ltd. is a professional and rigorous network solution specifically designed for industrial environments. With its outstanding features such as environmental adaptability, stable output, dual power supply redundancy, and easy installation, this switch offers businesses a reliable and efficient means of managing their network infrastructure. Choose the 26-port Gigabit industrial switch and experience the difference it can make in your industrial network.
Technical Parameter:
Model

CF-Y2024G-SFP

Interface Characteristics

 

Fixed Port

 

24* 10/ 100/ 1000Base-TX RJ45 port

2* 1000Base-X uplink SFP port 

 

Ethernet Port

 

10/ 100/ 1000Base-TX auto-sensing, full/half duplex MDI/MDI-X self-adaption

 

Twisted Pair

Transmission

 

10BASE-T: Cat3,4,5 UTP(≤100 meter)

100BASE-T: Cat5e or later UTP(≤100 meter)

1000BASE-T : Cat5e or later UTP(≤100 meter)

 

SFP Slot Port

 

Gigabit SFP optical fiber interface, default not include optical modules (optional single-mode / multi-mode, single fiber / dual fiber optical module. LC)

Wavelength/Distance

multimode: 850nm 0~550M,1310nm 0~2KM

single mode: 1310nm 0~40KM ,1550nm 0~120KM 

Chip Parameter

 

Network Protocol

 

IEEE802.3 10BASE-T,    IEEE802.3i 10Base-T,

 

IEEE802.3u 100Base-TX, IEEE802.3u 100Base-SX, IEEE802.3x

IEEE802.3ab 1000Base-T;IEEE802.3z 1000Base-X;

 

Forwarding Mode

 

Store and Forward(Full Wire Speed)

 

Switching Capacity

 

48Gbps

 

Buffer Memory

 

35.7Mpps

 

MAC

 

8K

 

LED Indicator

PowerIndicatorLight

 

P:1 Green

Fiber Indicator Light

F:1 Green (Link,SDFED)

On the RJ45 seat

Yellow:Indicate PoE

Green: Indicates network working status

Power

   Working Voltage

 

DC12-57V, 4 Pin industrial phoenix terminal, support anti-reverse protection

 

Power Consumption

 

Standby<8W, Full load<20W

   Power Supply

 

24V/1A  industrial power supply

Physical Parameter

 

Operation TEMP /Humidity

  -40~+75°C;5%~90% RH Non condensing

 

Storage TEMP /Humidity

 

-40~+85°C;5%~95% RH Non condensing

 

Dimension (L*W*H)

 

174mm* 147mm*69mm

 

 

Installation

 

Desktop, DIN rail
Product Size: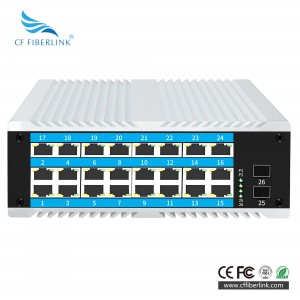 Q&A:
What are your prices?
Our prices are subject to change depending on supply and other market factors. We will send you an updated price list after your company contact us for further information.
  Do you have a minimum order quantity?
Yes, we require all international orders to have an ongoing minimum order quantity. If you are looking to resell but in much smaller quantities, we recommend you check out our website.
Can you supply the relevant documentation?
Yes, we can provide most documentation including Certificates of Analysis / Conformance; Insurance; Origin, and other export documents where required.
What is the average lead time?
For samples, the lead time is about 7 days. For mass production, the lead time is 20-30 days after receiving the deposit payment. The lead times become effective when (1) we have received your deposit, and (2) we have your final approval for your products. If our lead times do not work with your deadline, please go over your requirements with your sale. In all cases we will try to accommodate your needs. In most cases we are able to do so.
What kinds of payment methods do you accept?
You can make the payment to our bank account, Western Union or PayPal:
30% deposit in advance, 70% balance against the copy of B/L.
What is the product warranty?
We warranty our materials and workmanship. Our commitment is to your satisfaction with our products. In warranty or not, it is the culture of our company to address and resolve all customer issues to everyone's satisfaction
Do you guarantee safe and secure delivery of products?
Yes, we always use high quality export packaging. We also use specialized hazard packing for dangerous goods and validated cold storage shippers for temperature sensitive items. Specialist packaging and non-standard packing requirements may incur an additional charge.
How about the shipping fees?
The shipping cost depends on the way you choose to get the goods. Express is normally the most quickest but also most expensive way. By seafreight is the best solution for big amounts. Exactly freight rates we can only give you if we know the details of amount, weight and way. Please contact us for further information.
---
---
Write your message here and send it to us