24+2+1 Gigabit PoE switch
Product Detail
Product Tags
Product Features
Supports powering millions of high-definition network cameras through UTP Category 5 and above unshielded twisted pair cables.
24 10/1000 Mbps auto-sensing RJ45 downlink ports support 802.3af/at standard PoE power supply.
Two 10/100/1000 Mbps uplink electrical ports, which can meet local NVR storage and aggregation switches or external network equipment connections
One gigabit uplink SFP photoelectric multiplexing port can be easily connected to the optical fiber backbone network, greatly expanding the scope of application of the equipment.
Support one-key video monitoring mode to achieve mutual isolation between downstream ports, suppress network storms, and improve network performance
Intelligent detection and identification of powered devices and output of the corresponding POE power, do not damage non-powered devices, never burn equipment.
The PoE port supports the priority mechanism. When the remaining power is insufficient, the power supply of the high-priority port is given priority to avoid overloading the equipment.
The maximum PoE output power of the whole machine: 400W, the maximum power supply of a single port: 30W
Users can easily understand the working status of the device through the status indicator on the front panel of the device
Plug and play, no configuration required, simple and convenient.
Technical parameter
Project

Describe

Power section

Power supply

Powered by power adapter

Adapt to voltage range

DC48V~57V

Power consumption

This machine consumes <5W

Network port parameters

Port Specifications

1~24 downlink electrical ports: 10/1000Mbps

UPLINK G1~G2 uplink electrical port: 10/100/1000Mbps

1 gigabit photoelectric multiplexing SFP port

Transmission distance

1 to 24 downlink electrical ports: 0 to 100m

UPLINK G1-G2 uplink port: 0~100m

1 gigabit optical multiplexed SFP port: performance is determined by the module

Transmission medium

1~24 Downlink electrical ports: Cat5e/6 standard UTP twisted pair

UPLINK G1~G2 uplink electrical port: Cat5e/6 standard UTP twisted pair

Multimode: 50/125μm, 62.5/125μm Single mode: 9/125μm,

POE standard

Compliant with IEEE802.3af/IEEE802.3at international standard

PoE power supply mode

End Jumper 1/2+, 3/6- (default)

PoE power supply

The maximum power supply of a single port: ≤30W, the maximum power supply of the whole machine: ≤400W

Network Switching Specifications

web standard

Support IEEE 802.3/802.3u/IEEE802.3af/IEEE802.3at

exchange capacity

12.8Gbps

packet forwarding rate

9.5232Mpps

packet buffer

8M

MAC address capacity

16K

Status indication

power light

1 (green)

Electric port indicator

24 (green)

Uplink electrical port indicator

2 (green) G1 G2

SFP port indicator

1 (green)

Protection class

Whole machine electrostatic protection

1a Contact discharge level 3

1b Air discharge level 3 Executive standard: IEC61000-4-2

Communication port lightning protection

4KV

Executive standard: IEC61000-4-5

Operating environment

Operating temperature

-10℃~55℃

storage temperature

-40℃~85℃

Humidity (non-condensing)

0~95%

Body attributes

Material

442mm×261mm×44.5mm (rack type)

Galvanized sheet

color

black

weight

2900g (rack mount)

MTBF (Mean Time Between Failure)

100,000hrs
Product Size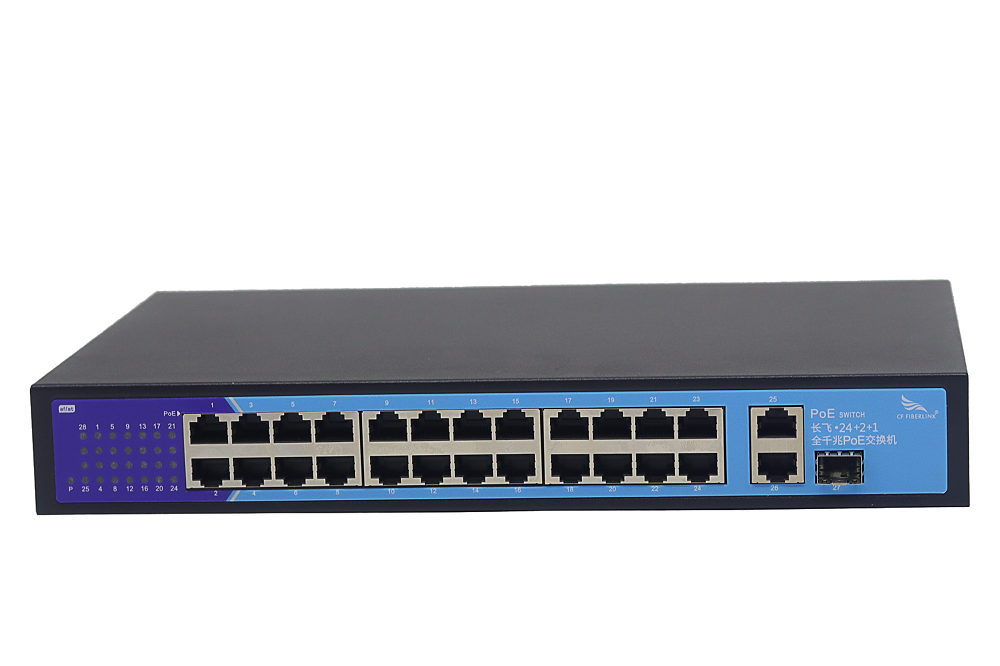 Applications
product list
Carefully open the box and check the accessories that should be in the box:
One CF-PE2G024N switch
a power cord
a user manual
A warranty card and a certificate of conformity
---
---
Write your message here and send it to us