2.4G lift wireless bridge
Product Detail
Product Tags
2.4G lift wireless bridge
Product Features:
Huizhou Changfei Optoelectronics Technology Co., Ltd., a leading innovative enterprise in high-tech communication equipment, grandly launched a 2.4G elevator wireless bridge. Specifically designed for elevator communication, this advanced wireless bridge provides seamless connectivity within the elevator, ensuring smooth and reliable communication.
As an innovative high-tech enterprise, Huizhou Changfei Optoelectronics Technology Co., Ltd. focuses on 5G communication equipment, 10G core switches, industrial cloud network management switches, optical fiber transceivers, intelligent PoE switches, and network switches. Switches, wireless bridges, optical modules, etc. Known for excellence and forward-looking solutions, the company is committed to providing high-quality products that meet the diverse needs of the market.
The Elevator 2.4G Wireless Bridge is a truly great addition to its range. It is designed to provide the best possible wireless connection in the elevator environment, providing a seamless and efficient communication solution. Equipped with a high-power built-in PA (Power Amplifier), this wireless bridge ensures a strong and reliable signal even in challenging environments. Elevators can now enjoy uninterrupted communication, improving safety and productivity.
In addition, the 2.4G elevator dedicated wireless bridge also has a user-friendly operation interface and a one-key dialing and pairing function. This simplifies the setup process and allows for a quick, hassle-free installation. Elevator systems pair easily with this wireless bridge at the touch of a button, saving valuable time and effort.
In addition to robust connectivity and ease of use, the system can also act as a simple security monitoring partner. Elevator operators can rely on wireless bridges to transmit real-time video feeds from security cameras inside elevators, enhancing surveillance capabilities and ensuring passenger safety.
The 2.4G elevator dedicated wireless bridge has a stylish and compact design, and can be seamlessly integrated into any elevator environment. Its sturdy construction ensures long-lasting performance, even in harsh outdoor conditions. The wireless bridge is designed to withstand extremes of temperature, humidity, and other environmental factors, making it ideal for indoor and outdoor installations.
Huizhou Changfei Optoelectronics Technology Co., Ltd. prides itself on providing innovative solutions that improve communication and connectivity. The Elevator 2.4G Wireless Bridge demonstrates their commitment to provide cutting-edge products that meet the ever-changing needs of the market.
In conclusion, 2.4G Elevator Dedicated Wireless Bridge is a game changer for elevator communication technology. With its high-performance built-in PA, push-to-dial pairing and simple security monitoring features, it provides seamless and reliable wireless connectivity. Elevator operators can trust this wireless bridge to provide uninterrupted communications and improve system safety and efficiency. Choose Huizhou Changfei Optoelectronics Technology Co., Ltd. to learn about the latest developments in wireless bridge solutions and unleash the full potential of elevator communication systems.
Technical Parameter:
Model

CF-CPE300K

Fixed Port

1*10/100Mbps 24V PoE PD port

1*DC5521 12VDC power port

Ethernet Port

10/100Base-TX auto-sensing,Full/half duplex MDI/MDI-X self-adaption

Working Frequency

2.4G:300M 802.11b/g/n MIMO

DDR2 Memory

 8MB

Flash

1MB

Reset Switch

 Press for 15 seconds and release to restore factory settings

LED Indicator

System: SYS (green), network: NET (green), signal indicator: (green)

Power Supply Mode

12VDC or 24V Passive PoE power supply

Operation TEMP / Humidity

-40~+70°C;5%~90% RH Non condensing

Storage TEMP / Humidity

-40~+75°C;5%~95% RH Non condensing

Dimension (L*W*H)

140mm×75mm×42mm

Lightning protection / protection level

Port lightning protection: 6KV 8/20us; Protection level: IP61

Certification

FCC, CE -EMC /LVD/RF, RoHS

Warranty

3 years, lifelong maintenance.

RF characteristics

Frequency range

ISM band: 2.300GHz ~ 2.4835GHz

Channel distribution

2.4G: 1、 2、 3、 4、 5、 6、 7、 8、 9、 10、 11、 12、 13、 32、 33、 37、 38、 42、 43

receiver sensitivity

802.11n: -70dbm@MCS7, -88dbm@MCS0 802.11g: -72dbm@54Mbps, -88dbm@6Mbps 802.11b: -85dbm@11Mbps, -94dbm@1Mbps

EVM

802.11n: ≤-28 DB 802.11g: ≤-25 DB 802.11b: ≤-10 DB

Frequency offset

±20ppm
Product Size: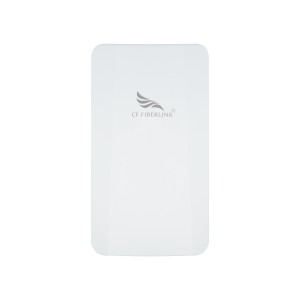 ---
Previous:
5.8G wireless bridge
Next:
4G wireless router
---
Write your message here and send it to us