Managed Industrial Switch Metal Body Factory
Product Detail
Product Tags
◎ product description
CF-HY808GW-SFP is a high-performance network industrial Ethernet switch, the products meet FCC, CE, ROHS standards. The combination of fast Ethernet interfaces and optical fiber interfaces, with up to 16 interfaces and up to 8 Gigabit ports, enhances the flexibility of designing networks and applications. This series of switches support port mirror, VLAN, igmp, QoS, stp / Rstp and other rich second-layer software features and a series of practical management methods, such as Web, SNMP and relay alarm output, better for factory automation, intelligent transportation, video surveillance and other industrial application fields to establish a fast and stable remote terminal access network to provide safe and reliable solutions.
◎ product technical indicators
product name:

Management industrial-grade switch

product model:

CF-HY808GW-SFP

Port description:

8 RJ45 ports + 8 optical fiber optic ports

The RJ45 port:

10 / 100 / 1000M Autodetection, full / half-duplex MDI / MDI-X adaptive

Fiber port:

The 1000BaseFX port (SFP Slot)

Ethernet Standard:

IEEE802.3-10BaseT, IEEE802.3u-100BaseTX/100Base-FX, IEEE802.3x-Flow Control, IEEE802.3z-1000BaseLX, IEEE802.3ab-1000BaseTX, IEEE802.1ab Logical Link Discovery Protocol, IEEE802.1D-Spanning Tree Protocol, IEEE802. 1w-Rapid Spanning Tree Protoco, APS




IEEE802.1Q-VLAN Tagging, IEEE802.1p-Class of Service, IEEE802.1X-Port Based Network Access Control, et al

work environment:

Operating temperature: -40~85 °C (-40~185 °F) Storage temperature: -40~85 °C (-40~185 °F) Relative humidity: 5%~95% (no condensation exposure)

occupation standard:

EMI:FCC Part 15 Subpart B Class A,EN 55022 Class A




EMS :




IEC (EN) 61000-4-2 (ESD): ± 8kV contact discharge, ± 15kV air discharge




IEC(EN)61000-4-3(RS):10V/m(80~1000MHz)




IEC (EN) 61000-4-4 (EFT): power cable: ± 4kV; data cable: ± 2kV




IEC (EN) 61000-4-5 (Surge): Power cord: ± 4kV CM / ± 2kV DM; data cable: ± 2kV




IEC (EN) 61000-4-6 (RF conduction): 3V (10kHz~150kHz), 10V (150kHz~80MHz)




IEC (EN) 61000-4-16 (co-mode conduction): 30V cont.300V,1s




IEC(EN )61000-4-8




Shock:IEC 60068-2-27




Freefall:IEC 60068-2-32




Vibration:IEC 60068-2-6

Switch Properties:

Application level: the total bandwidth of the second floor backplane: 91.2Gbps

Priority queue: 8 VLAN ID range: 1 ~ 4094

Priority queue: 8 VLAN ID range: 1 ~ 4094

Host number: 512 MAC address table size: 16 K

Package Buffer size: 8Mbits exchange latency <5us

Management and maintenance:

Support for Console, WEB management mode




Support for SNMP v1 / v2 / v3

network security:

Support IEEE 802.1x Support HTTP support RADIUS




Support user grading supports MAC address binding

source:

Input voltage: DC12-52V (dual power supply redundant backup)




Access terminal: Phoenix terminal

Support for dual-power supply redundancy




Support for built-in overstream 4.0A protection




Support anti-connection protection

mechanical properties:

Housing: IP40 protection class, metal shell




Dimensions: 16614278mm




Weight: 1.25KG




Installation method: stuck rail installation, wall-mounted installation




Heat dissipation mode: natural cooling, no fan

redundant technique:

ERPS ring is supported with self-healing time <20ms   Supports STP / RSTP / MSTP

Hosting technology:

Support for IGMP v1 / v2 / v3, IGMP snooping




Support GMRP and support static multicast support

functions of exchange:

Support port speed limit, support port convergence, support port flow control




Support for ports VLAN, IEEE 802.1Q VLAN




Support for broadcast storm suppression

LED metric:

Power supply indicator lamp: PWR




Interface indicator lamp: electric port, light port (Link / ACT)

levels of protection:

IP40

attestation:

Pass the certification: CE, FCC, Rohs, ISO9001:2008 Ministry of Industry and Information Technology Network Access License Ministry of Public Security Inspection Report




Safety: UL508

mean free error time:

The 300,000 Hrs

Quality Assurance:

Five years
◎ product appearance size
Length x width x height (mm): 166x142x78mm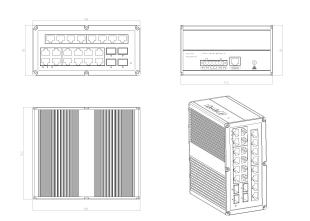 ◎ product application diagram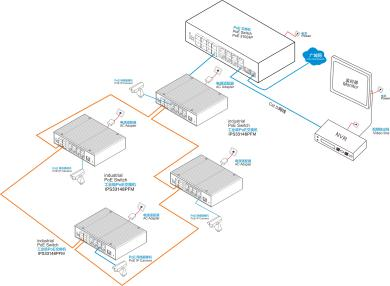 ◎ order model information
model

description

CF-HY808GW-SFP

8 Gigabit light + 8 gigabit adaptive ports, SFP interface, DC12-52V power supply-wide temperature (-40℃ -85℃) -CE-RoHS-FCC-Ministry of Public Security inspection report-Ministry of Industry and Information Technology network access license

Power adapter

 CF12V1A-DC

12V / 1A, suitable for non-POE industrial switch product line.

 

 CF24V1A-DC

24V / 1A, suitable for the non-POE Industrial Switch product line.
---
---
Write your message here and send it to us