100M fiber optic transceiver (one light and 8 electricity) Plug and Play Easy to Use
Product Detail
Product Tags
product description:
This product is a 100M fiber transceiver with 1 100M optical port and 8 100Base-T(X) adaptive Ethernet RJ45 ports. It can help users realize the functions of Ethernet data exchange, aggregation and long-distance optical transmission. The device adopts fanless and low power consumption design, which has the advantages of convenient use, small size and simple maintenance. The product design conforms to the Ethernet standard, and the performance is stable and reliable. The equipment can be widely used in various broadband data transmission fields such as intelligent transportation, telecommunications, security, financial securities, customs, shipping, electric power, water conservancy and oil fields.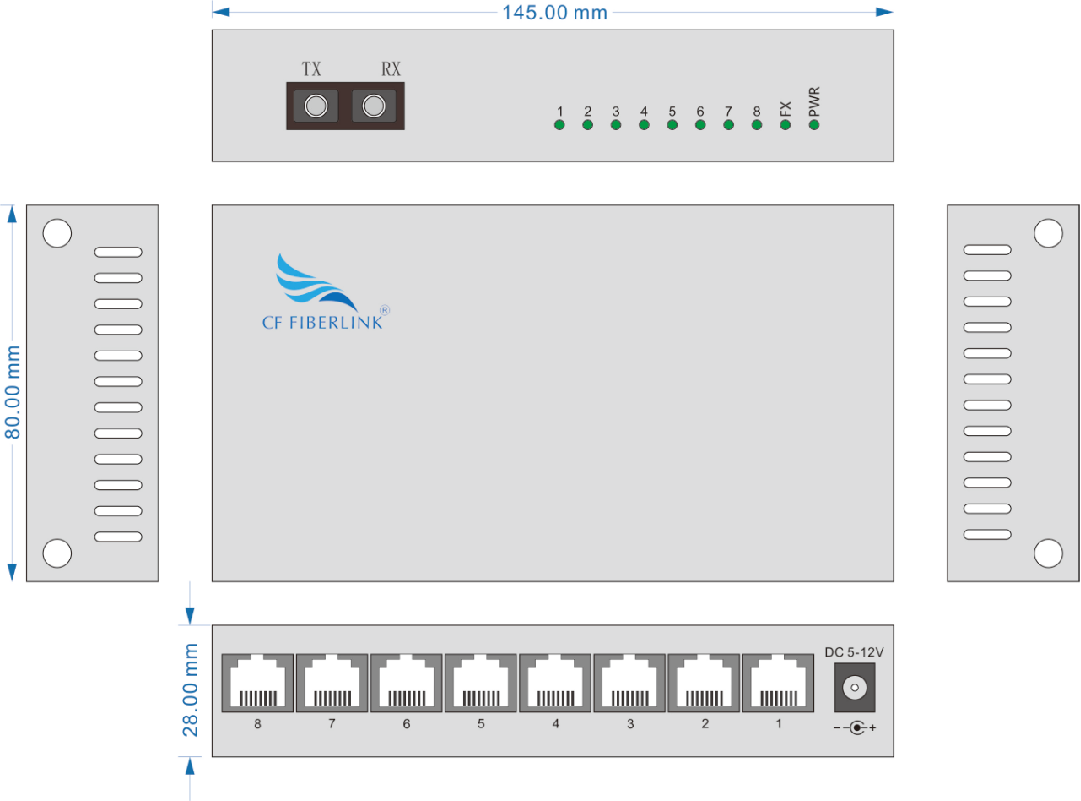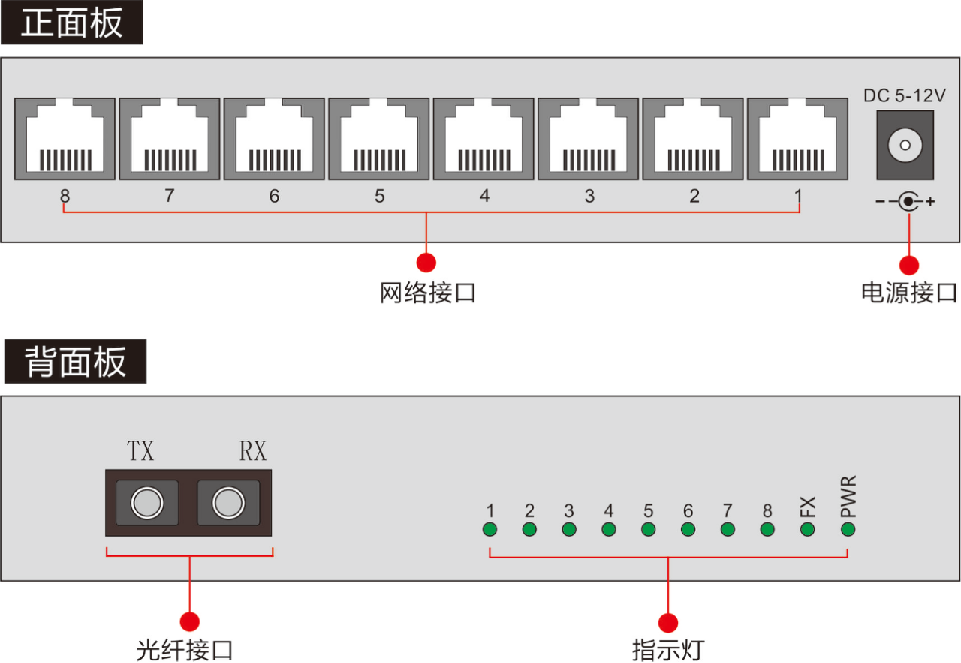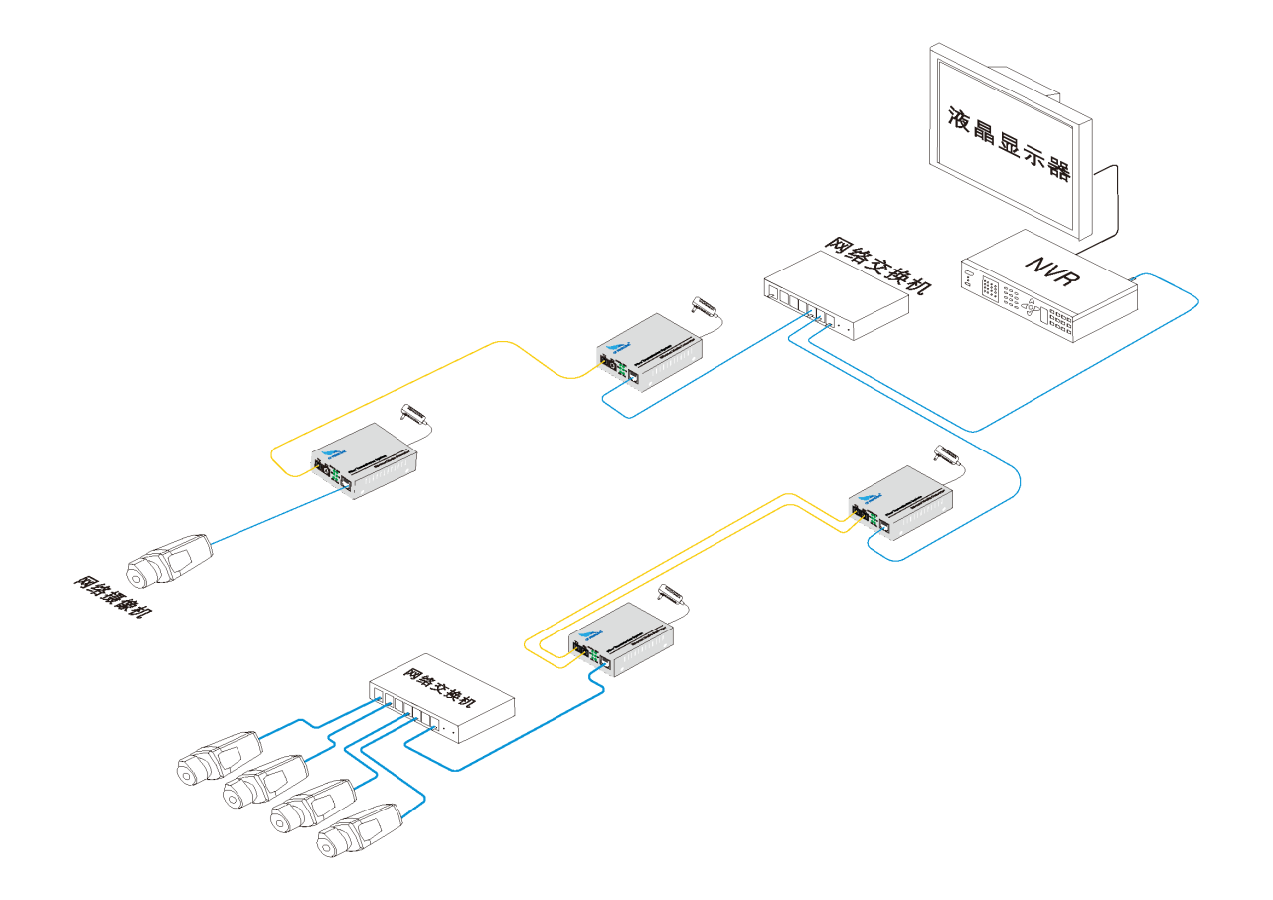 | | |
| --- | --- |
| model | CF-1028SW-20 |
| network port | 8×10/100Base-T Ethernet ports |
| Fiber port | 1×100Base-FX SC interface |
| Power interface | DC |
| led | PWR, FDX, FX, TP, SD/SPD1, SPD2 |
| rate | 100M |
| light wavelength | TX1310/RX1550nm |
| web standard | IEEE802.3, IEEE802.3u, IEEE802.3z |
| Transmission distance | 20KM |
| transfer mode | full duplex/half duplex |
| IP rating | IP30 |
| Backplane bandwidth | 1800Mbps |
| packet forwarding rate | 1339Kpps |
| Input voltage | DC 5V |
| Power consumption | Full load<5W |
| Operating temperature | -20℃ ~ +70℃ |
| storage temperature | -15℃ ~ +35℃ |
| Working humidity | 5%-95% (no condensation) |
| Cooling method | fanless |
| Dimensions (LxDxH) | 145mm×80mm×28mm |
| weight | 200g |
| Installation method | Desktop/Wall Mount |
| Certification | CE, FCC, ROHS |
LED indicator

condition

meaning

SD/SPD1

Bright

The optical port link is normal

SPD2

Bright

The current electrical port rate is 100M

extinguish

The current electrical port rate is 10M

FX

Bright

Optical port connection is normal

flicker

Optical port has data transmission

TP

Bright

The electrical connection is normal

flicker

The electrical port has data transmission

FDX

Bright

The current port is working in full duplex state

extinguish

The current port is working in half-duplex state

PWR

Bright

Power is OK
Understanding and difference between logical isolation and physical isolation about Ethernet fiber optic transceivers
Nowadays, with the wide application of Ethernet, in many fields, such as electric power, banking, public security, military, railway, and private networks of large enterprises and institutions, there are extensive physical isolation Ethernet access requirements, but what is physical isolation Ethernet? What about the net? What is logically isolated Ethernet? How do we judge logical isolation versus physical isolation?
What is physical isolation:
The so-called "physical isolation" means that there is no mutual data interaction between two or more networks, and there is no contact at the physical layer/data link layer/IP layer. The purpose of physical isolation is to protect the hardware entities and communication links of each network from natural disasters, man-made sabotage and wiretapping attacks. For example, the physical isolation of the internal network and the public network can truly ensure that the internal information network is not attacked by hackers from the Internet.
What is logical isolation:
The logical isolator is also an isolation component between different networks. There are still data channel connections on the physical layer/data link layer at the isolated ends, but technical means are used to ensure that there are no data channels at the isolated ends, that is, logically. Isolation, the logical isolation of network optical transceivers/switches on the market is generally achieved by dividing VLAN (IEEE802.1Q) groups;
VLAN is equivalent to the broadcast domain of the second layer (data link layer) of the OSI reference model, which can control the broadcast storm within a VLAN. After dividing the VLAN, due to the reduction of the broadcast domain, the isolation of two different VLAN grouping network ports is realized. .
The following is a schematic diagram of the logical separation:
The above picture is a schematic diagram of a logically isolated 1 optical 4 electrical fiber optic transceiver: 4 Ethernet channels (100M or Gigabit) are similar to the 4 lanes of the highway, entering the tunnel, the tunnel is a single lane, and the tunnel exits Then there are 4 lanes, 1 optical and 4 electrical 100M logic isolation fiber optic transceivers, the optical port is also 100M, and the bandwidth is 100M, so the network data coming in from 4 channels of 100M should be arranged on the 100M fiber channel. When entering and exiting, line up and go out to their corresponding lanes; therefore, in this solution, network data is mixed in Fibre Channel and is not isolated at all;
---
Previous:
Factory directly Portable Ethernet Switch - 5.8G 900M wireless bridge – Changfei Optoelectronics
---
Write your message here and send it to us