14-slot Fiber Media Converter 2U Rack
Product Detail
Product Tags
Product Features:
Introducing the 14-Slot 2U Transceiver Rack: The Perfect Solution for Your Networking Needs
In Huizhou Changfei Optoelectronics Technology Co., Ltd., we are committed to providing cutting-edge transmission solutions and first-class products to our valued customers around the world. With many years of R&D experience and a number of photoelectric product research patents, we have become a trustworthy brand in the industry. Our unwavering commitment to excellence has earned us the admiration of more than 360 dealers and agents in more than 100 countries around the world.
We're excited to introduce our latest innovation: the 14-slot 2U transceiver rack. Designed with attention to detail, this rack combines durability, functionality, and convenience to give you an unparalleled networking experience.
One of the outstanding features of our 2U rack is its dual power supply redundant design. This ensures uninterrupted system operation, keeping your network up and running even in the event of power disturbances. Additionally, drawer power supplies can be easily maintained and quickly replaced, minimizing downtime.
With low-noise dual fans, we've created an eco-friendly product that runs silently, making it suitable for use in a variety of environments. Whether it's a busy office or a quiet server room, you can rest assured that your network equipment is working efficiently without disturbing the surrounding environment.
The 14-slot 2U transceiver rack has impressive capacity and supports up to 14 transceivers operating simultaneously. Each transceiver is hot-swappable, providing you with seamless installation and removal without shutting down the entire system. This capability not only saves time, but also increases the overall efficiency of network operations.
Setting up a 2U rack is a breeze thanks to its plug-and-play functionality. With a simple installation process, you can have your network up and running in no time. Its 2U rackmount design ensures a compact footprint, making it ideal for environments with limited space. Made of sturdy metal for durability and stability, this rack will keep your valuable network equipment safe.
For maximum protection for your equipment, our 2U rack design has an IP30 rating. This keeps out dust and solid objects, allowing your transceiver to function optimally in challenging conditions. Additionally, the 19-inch rack mount ensures compatibility with standard networking equipment, enabling seamless integration into your existing infrastructure.
Safety is our top priority, which is why we have built overvoltage and overcurrent protection mechanisms into the frame design. These built-in features protect your equipment from potential damage, giving you peace of mind while ensuring the longevity of your investment.
All in all, Huizhou Changfei Optoelectronics Technology Co., Ltd.'s 14-slot 2U transceiver rack embodies the pinnacle of innovation and quality. With an array of advanced features, solid metal construction and exceptional performance, this rack is ideal for businesses and individuals looking for a robust and user-friendly networking solution. Experience the difference immediately and take your network's efficiency and reliability to new heights.
Please note: This is a sample output and may not meet exact word count restrictions or requirements.
14 Bays to house up to 14 Media Converters slots
Optional redundant power supply to ensure non-stop reliable operation
Hot-swappable; easy & quick replacement of converter
Standard 19-inch rack-mountable, 2U height
Offers over-voltage and over-current protection
Mounted two cooling fans for better ventilation
technical parameter:
 Model

 CF-2U14

 Interface Characteristics

 System Configuration

14* slots  2*AC powers

Power

AC Power Supply

nput:100-265V~50/60Hz 1.2A(Max) 

Output:+5VDC, 12A(Max)

 DC Power Output per Slo

 5V/0.8A

 LED Indicator

 Power:PWR(Green)

Environment

Operating Temperature:

0°C~40°C (32°F~104°F)

Storage Temperature: 

-40°C~70°C (-40°F~158°F) 

Operating Humidity:

10%~90% non-condensing

Storage Humidity:

5%~90% non-condensin

Parameter

 Dimension (L*W*H)

 490mm*230mm*90mm 

 Installation

 Desktop, Rack-mounted

Fan Quantity

2
Product Size: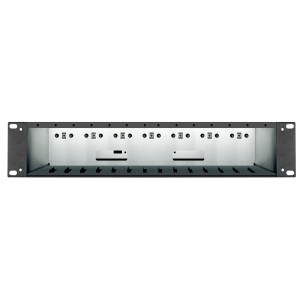 Use Preview: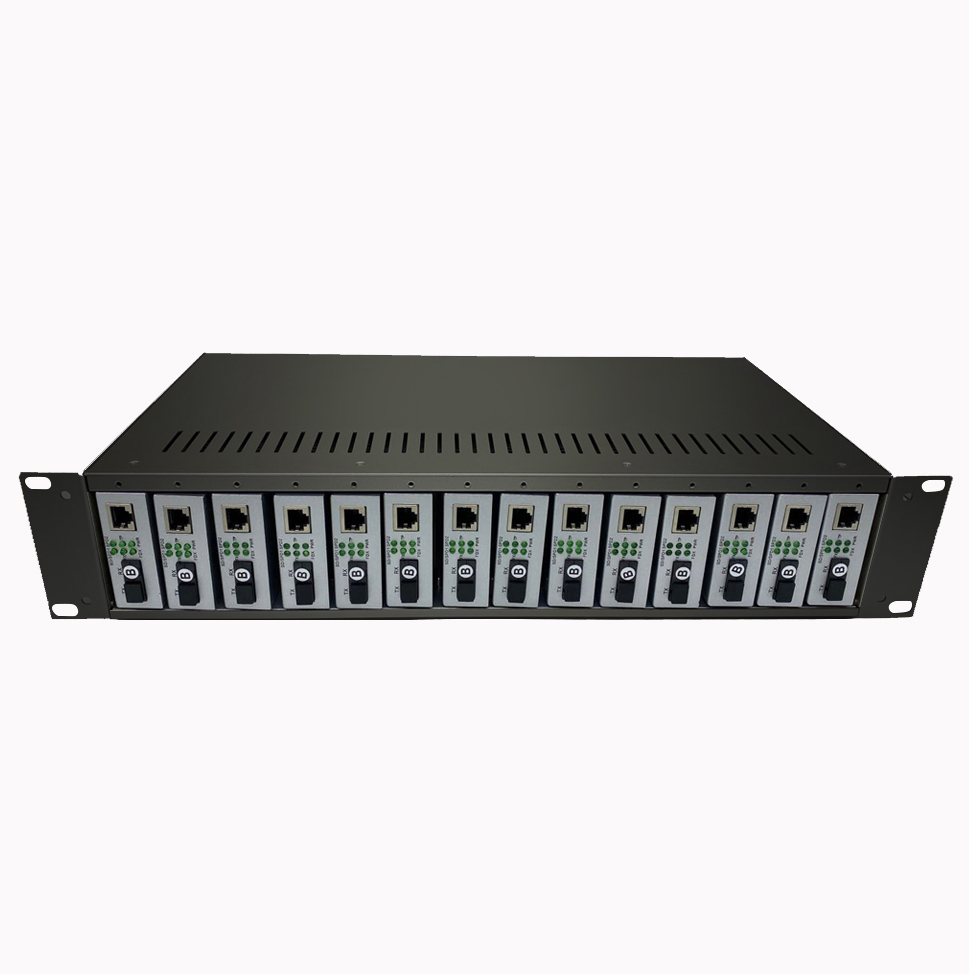 Installation procedure: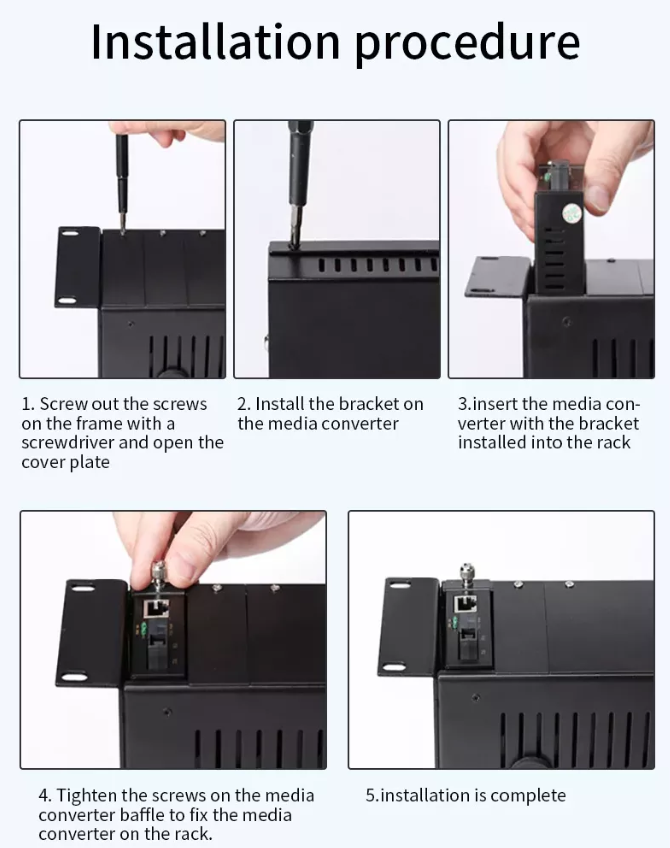 Q&A:
What are your prices?
Our prices are subject to change depending on supply and other market factors. We will send you an updated price list after your company contact us for further information.
 Do you have a minimum order quantity?
Yes, we require all international orders to have an ongoing minimum order quantity. If you are looking to resell but in much smaller quantities, we recommend you check out our website.
Can you supply the relevant documentation?
Yes, we can provide most documentation including Certificates of Analysis / Conformance; Insurance; Origin, and other export documents where required.
What is the average lead time?
For samples, the lead time is about 7 days. For mass production, the lead time is 20-30 days after receiving the deposit payment. The lead times become effective when (1) we have received your deposit, and (2) we have your final approval for your products. If our lead times do not work with your deadline, please go over your requirements with your sale. In all cases we will try to accommodate your needs. In most cases we are able to do so.
What kinds of payment methods do you accept?
You can make the payment to our bank account, Western Union or PayPal:
30% deposit in advance, 70% balance against the copy of B/L.
What is the product warranty?
We warranty our materials and workmanship. Our commitment is to your satisfaction with our products. In warranty or not, it is the culture of our company to address and resolve all customer issues to everyone's satisfaction
Do you guarantee safe and secure delivery of products?
Yes, we always use high quality export packaging. We also use specialized hazard packing for dangerous goods and validated cold storage shippers for temperature sensitive items. Specialist packaging and non-standard packing requirements may incur an additional charge.
How about the shipping fees?
The shipping cost depends on the way you choose to get the goods. Express is normally the most quickest but also most expensive way. By seafreight is the best solution for big amounts. Exactly freight rates we can only give you if we know the details of amount, weight and way. Please contact us for further information.
---
---
Write your message here and send it to us
Related products
16-slot Fiber Media Converter 2U Rack Product Features: Introducing the 16-Slot Card Transceiver Rack: Boost Your Networking Capabilities Huizhou Changfei Optoelectronics Technology Co., Ltd. is proud to introduce the 16-slot Card Transceiver Rack, a cutting-edge solution designed to revolutionize your network transmission capabilities. We are committed to providing advanced overall transmission solutions and high-quality products and services, and have accumulated rich experience in researc...

14-slot Fiber Media Converter 2U Rack(TP) Product Features: Introducing the 14-slot Optical Transceiver 2U Rack: Perfect for P MERCURY Tenda Transceivers We are pleased to introduce a 14-slot optical transceiver 2U rack designed for P MERCURY Tenda transceivers. This fiber optic transceiver rack provides a seamless solution for your network needs, ensuring reliable and efficient data transmission. Huizhou Changfei Optoelectronics Technology Co., Ltd. is a leading supplier of overall transm...

14-slot Aluminum Alloy Fiber Media Converter 2U Rack Product Features: Introducing the 14-Slot Aluminum Alloy 2U Transceiver Rack: The Ultimate Solution for Your Transmission Needs Huizhou Changfei Optoelectronics Technology Co., Ltd. proudly launches 14-slot aluminum alloy 2U transceiver rack, aiming to provide advanced transmission solutions to global customers with high-quality products and services. With a rich research and development background and a number of photoelectric product res...