WEB network management full gigabit 2 light 8 power Industrial Ethernet, and the switches
Product Detail
Product Tags
Industrial Ethernet switch (industrial switch for short) is a kind of cost-effective networking equipment specially provided to meet the needs of flexible industrial applications. According to the actual demand of industrial control, the industrial switch solves the technical problems such as real-time communication, network availability performance and security. Compared with ordinary commercial switches, industrial switches are more demanding in the design and the selection of components, and can better adapt to the needs of the harsh site of the industrial control site. The three-layer management switch of CFW-HY2008G series (supporting POE function) independently developed by industrial switches has 4 / 810 / 100 / 1000Mbps adaptive RJ 45 ports and 2 / 8 SFP gigabit light ports. Each RJ 45 port supports MDI / MDIX automatic flipping and line speed forwarding function. The 1-8 ports can support POE power supply, follow the IEEE802.3af/at standard, can be used as an Ethernet power supply equipment, can automatically detect and identify the power receiving equipment that meets the standard, and supply it through the network cable. Not only through the fan cooling circuit design, wide range working environment temperature, high protection level technology, such as vibration resistance, high / low temperature, dust, lightning protection, but also integrated routing, exchange, security and other rich protocol, and support the public Ethernet multi-ring protection technology (ERPS), which greatly improves the network flexibility, and enhance the reliability and security of the industrial network. Compared with traditional industrial switches, the YOFC CFW-HY2008G series provides a strong, easy to use and safe exchange infrastructure that can better meet the deployment requirements in a safe city, intelligent transportation, outdoor monitoring and other harsh environments.
◎ functional characteristics
 High-quality hardware design, and stable equipment performance
 High-quality hardware design. Follow the industrial grade design specification, adopt the international big factory mainstream mature industrial grade chip, high performance industrial grade CPU, industrial grade power module and aluminum alloy shell, to ensure the industrial grade quality of the products.
Using fan-less heat dissipation circuit design, support-40~85℃ working environment temperature, IP40 protection grade, lightning protection voltage 8KV, anti-vibration protection power supply design, electromagnetic interference four-level standard, impact resistance and vibration, the equipment can operate stably and reliably even in harsh environment.
 Rich network functions and security features
 Support VLAN, STP / RSTP / MSTP generation tree protocol, ERPS Ethernet multiring protection technology, multicast, port mirroring, QoS, port security, broadcast storm suppression and other second layer features.
Through a variety of internal security mechanism can effectively prevent and control the spread of virus and network traffic attacks, control illegal users use network, ensure the legitimate users rationalization network, such as port static and dynamic security binding, port isolation, various types of hardware ACL control, bandwidth speed limit based on data flow, user access control element binding, etc., to meet your network security control of equipment access.
 Flexible networking, simple management
 It also supports the traditional star networking mode and the Ethernet multi-loop protection technology (ERPS) to realize annular networking. This networking mode has high redundancy reliability. Once one node of the loop fails, the data can be forwarded from the other end, and the switching time is 20ms. At the same time, compared with the ring network network more save optical fiber, can save you a certain construction cost.
The form of flexible gigabit electric port + light port (non-reuse) is convenient for users to flexibly choose the connection form according to the network architecture. At the same time, the traditional CLI command line and Web graphical interface configuration switch, without the need to understand the complex command line and terminal simulation programs, allowing simple and fast configuration switches, thus reducing the difficulty of deployment.
◎ product technical indicators
technical parameter

parametric description

product model

CFW-HY2008G

CFW-HY2008GP

Fixed port

810 / 100 / 1000M adaptive electrical ports

810 / 100 / 1000M adaptive PoE ports

21000 BASE-XSFP light ports

21000 BASE-XSFP light ports

The VLNA dial-code switch

One key ring network configuration

exchange capacity

20Gbps

Package forwarding rate

14.88Mpps

MAC address list

16K

Package cache

12M bit

Port aggregation

Supports GE port aggregation

Supports 2.5GE port aggregation

Supports static aggregation

Support dynamic aggregation

Port features

Supports IEEE802.3x flow control

Support for port traffic statistics

Port isolation function

Supports storm suppression based on port rate percentage

PoE

/

Support for 802.3af(15.4W),802.3at (30W)

Support 1,2 +, 3,6-power supply

Support is compatible with non-standard PD devices

Support for PoE management

VLAN

Support for the access mode

Support for trail patterns

Support for the hybrid mode

VLAN Classification

Mac Based VLAN

IP Based VLAN

Protocal Based VLAN

QinQ

Basic QinQ (Port-based QinQ)

Port mirror image

Multi-to-one mirror image (Port Mirroring)

Second floor ring network agreement

Support for STP, RSTP, and MSTP

support G.8032 ERPS protocol, supporting single loop, associated subloops with other loops (Sub Ring)

DHCP

Support for DHCP Client

Support DHCP Snooping, support the trust port setting

Group broadcast

IGMP V1,V2,V3

IGMP snooping

ACL

IP Standard ACL (IP Standard ACL)

MAC Extension ACL (MAC extend ACL)

IP Extension ACL (IP extend ACL)

QoS

Support for QoS remarking, priority mapping (QoS Class, Remarking)

Support for SP, WRR queue scheduling (Support SP, WRR queue scheduling)

Inlet speed limit (Ingress Port-based Rate-limit)

Exit speed limit (Egress Port-based Rate-limit)

Flow-based QoS (Policy-based QoS)

Safety features

Support Dot 1 x, support port authentication, mac authentication, RADIUS service

Support for port-security

Support for the ip source guard, IP / Port / MAC binding function

Support arp-check, support illegal user arp message filtering

Support port isolation

Management and maintenance

Support LLDP link discovery protocol

Support user management, support login authentication

Support for SNMPV1 / V 2 C/V3

Support web management, HTTP 1.1, and HTTPS

Support Syslog system log, graded alarm

support RMON

Support temperature monitoring

Ping, Tracert are supported

Support for optical module information monitoring (DDM)

Support for TFTP Client

Support for Telnet Server

Support for SSH Server

Support for TFTP, WEB loading and upgrade

outline dimension mm

172 x 145x 45mm (length * width * height)

electromagnetic interference

IEC 61000-4-2(ESD )     Level 4 (8K/15K)

IEC 61000-4-3(RS)      Level 3 (10V/m)

IEC 61000-4-4(EFT)     Level 3 (1V/2V)

IEC 61000-4-5(Surge)   Level 4+(6KV/2KV)

IEC 61000-4-6(CS)      Level 3 (10V/m)

IEC 61000-4-8(PFMF)   Level4  (30A/m)

IEC 61000-4-11(DIP)    Level3  (10V)

source

DC DC input; dual power redundant input

Rated voltage range: 12-57V

power dissipation

The power consumption of the whole machine is 5W

Power consumption of the whole machine (without PoE load) is 5W

Overall power consumption (PoE full load) is 60W

temperature

Operating temperature: -40℃ -80℃

Operating temperature: -40℃ -70℃

Storage temperature: -40℃ -85℃

Storage temperature: -40℃ -80℃

humidity

Working humidity: 10% -90% RH

Storage humidity: 5% -95% RH
◎ product appearance size
Length x, width x, height (mm): 172 x 145x 54mm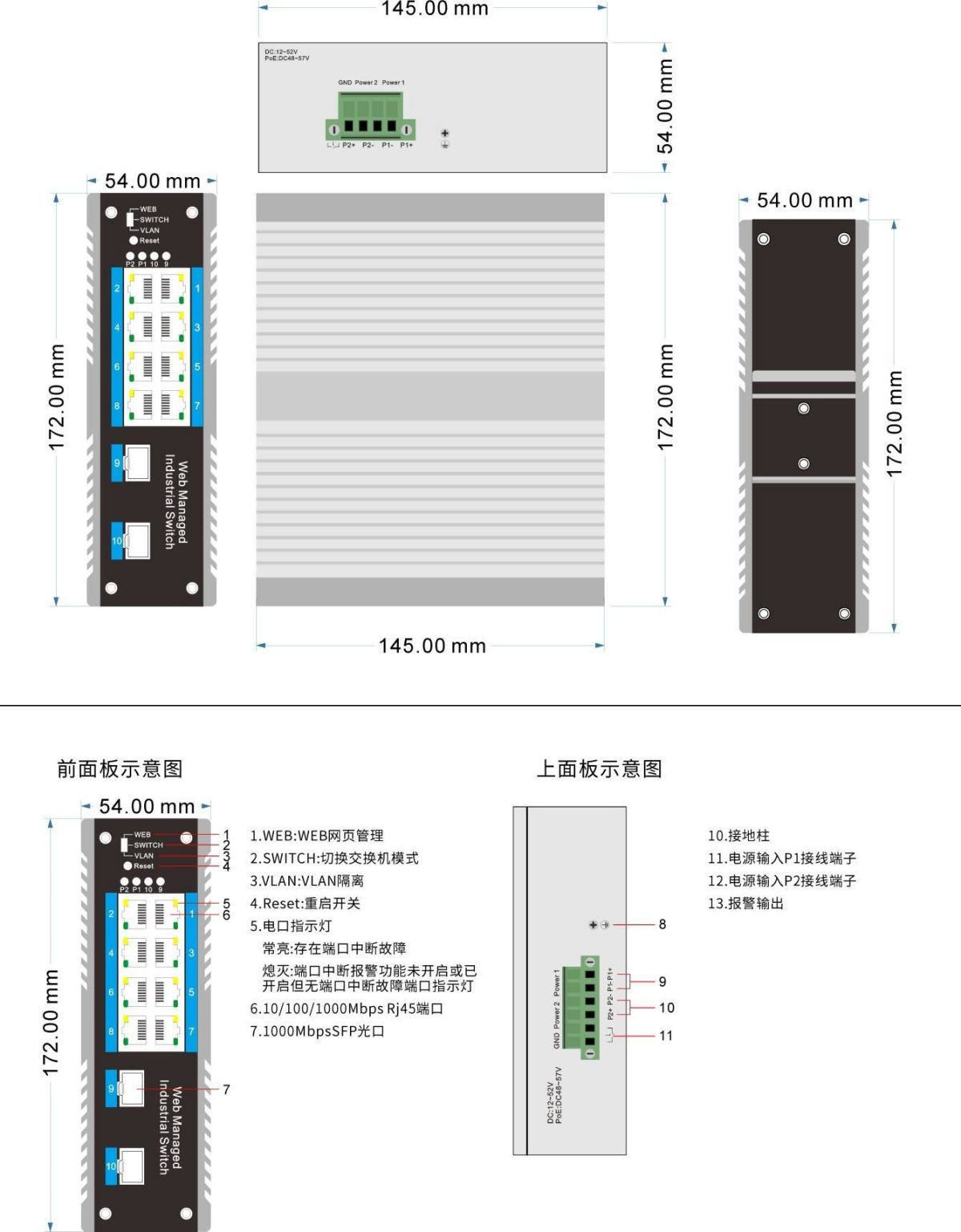 ◎ product application diagram
 Intelligent Transportation
Three surveillance cameras are set up in the four traffic directions at each intersectionCF-HY2004GVP-SFPProvide picture and video transmission channels for three intersection cameras, and use one at another intersectionCF-HY8008GVP-SFP. The data is transmitted to the intersection through gigabit optical fiber, and the signal light control, environmental monitoring data and video data are in placeCF-HY8008GVP-SFPAfter the convergence, it is transmitted to the monitoring center through optical fiber, and then transmitted to the city center through the existing backbone network.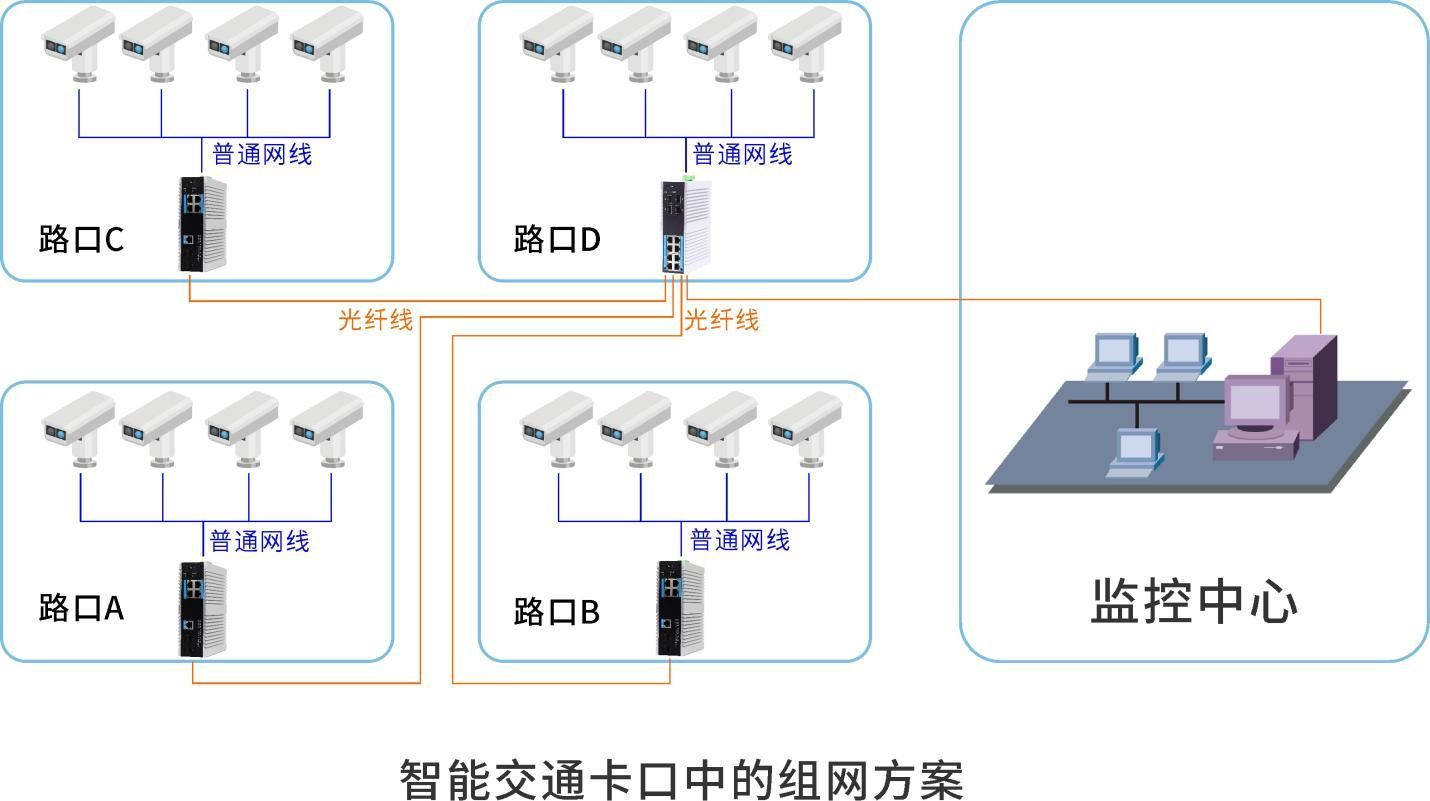 Safe city
Police station switches and the access switches passing through the intersectionCF-HY4T8024G-SFPTogether, they form a single-fiber protection ring. Can save optical fiber resources. The ERPS Ethernet net protection protocol is used on the ring. Fast switching of <=20ms can be achieved.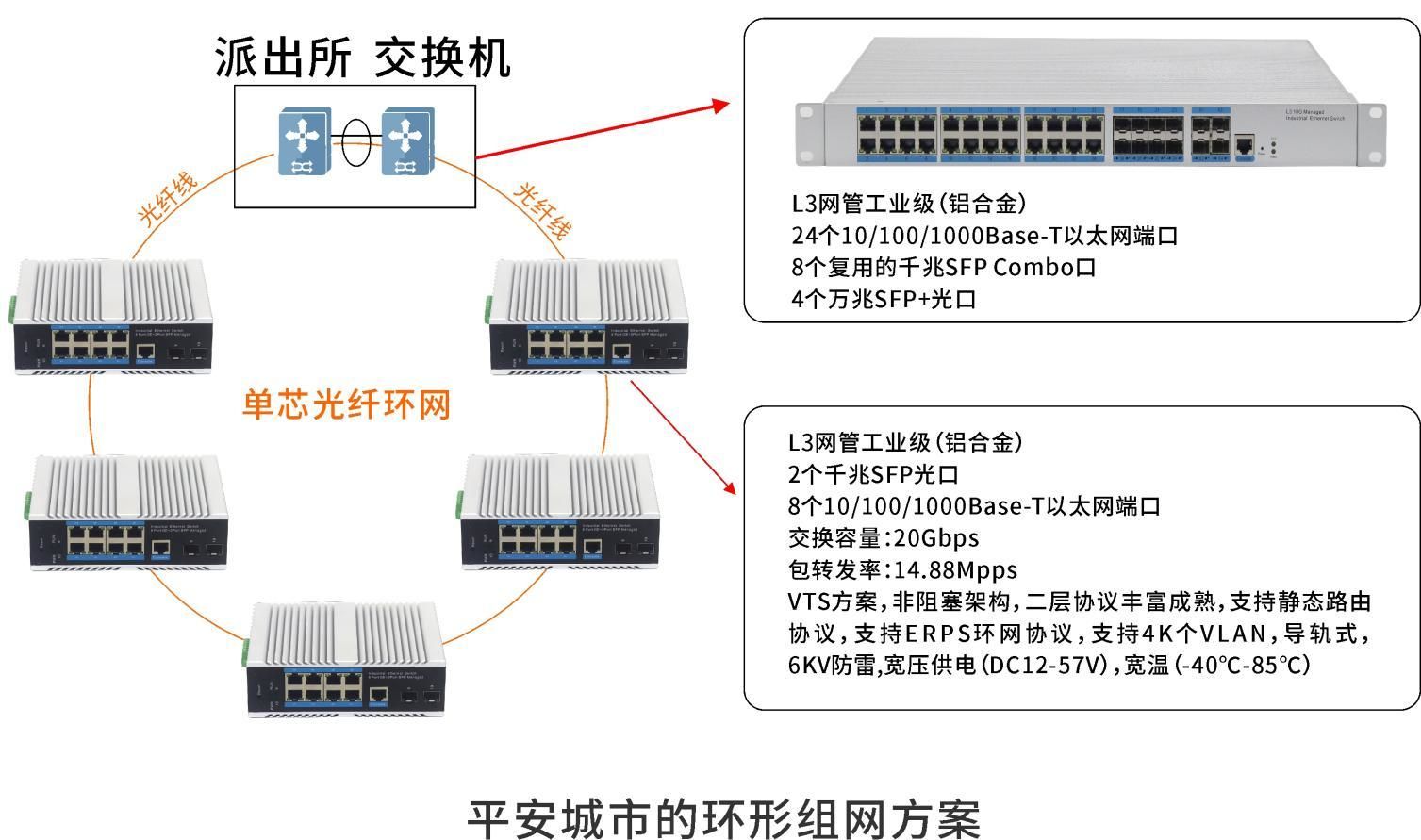 ◎ order model information
Order information for this product

model

description

remarks

CF W -HY2008G-SFP

2 gigabit SFP light ports, 810 / 100 / 1000 adaptive ports, DC 12-52V, L2 layers

required

CF W -HY 2008GP-SFP

2 Gigabit SFP light ports, 810 / 100 / 1000 adaptive PoE ports, DC 48-57V, L2 layers

required

CF W -HY2008GV-SFP

Two Gigabit SFP light ports, eight 10 / 100 / 1000 adaptive ports, DC 12-52V, L2 + layers

required

CF W -HY 2008GVP-SFP

Two gigabit SFP light ports, eight 10 / 100 / 1000 adaptive PoE ports, DC 48-57V, L2 + layers

required

CF-GE-MM850

Optical Module SFP 1.25 GMMF double fiber LC (850nm, LC, 550m)

selectable

CF-GE-SM1310-20

Optical Module SFP 1.25 G SMF double fiber LC (1310nm, LC, 20km)

selectable

CF-GE-SM1310-A20

BIDI Optical Module SFP 1.25 G SMF single fiber LC (TX1310 / RX1550nm, LC, 20km)

selectable

CF-GE-SM1550-B20

BIDI Optical Module SFP 1.25 G SMF single fiber LC (TX1550 / RX1310nm, LC, 20km)

selectable

HDR-15-12

15W/1.25A Guide rail type 12V DC power supply, universal 100 to 240V AC input, operating temperature-20 ~ 70°C

selectable

HDR-30-24

30W/1.5A Guide rail type 24V DC power supply, universal 100 to 240V AC input, operating temperature-20 ~ 70°C

selectable

HDR-30-24

30W/1.25A Guide rail type 24V DC power supply, universal 100 to 240V AC input, operating temperature-20 ~ 70°C

selectable

HDR-60-48

60W/1.25A Guide rail type 48V DC power supply, universal 100 to 240V AC input, operating temperature-20 ~ 70°C

selectable

HDR-150-48

150W/3.2A Guide rail type 48V DC power supply, universal 100 to 240V AC input, operating temperature-20 ~ 70°C

selectable
---
Previous:
WEB network management full gigabit 2 light 4 electricity Industrial Ethernet, and the switches
Next:
Ring network two floor network management full gigabit 4 light 8 electricity Industrial Ethernet, and the switches
---
Write your message here and send it to us