What is a PoE? PoE (Power over Ethernet) products that integrate power and data transmission over a single Ethernet cable, supplying power to network devices, are becoming more and more popular for enterprise, educational, and even home applications. With a multitude of PoE switches available on the market, choosing the right one can be difficult. In this article, we will briefly discuss the current state of PoE, and then analyze the advantages of the different types of PoE switches.
Because the Ethernet cable is used to deliver electrical power to devices, PoE devices eliminate the need for extra electrical wiring during installation. Initially, PoE was used mainly with Voice over Internet Protocol (VoIP) phones, which allowed existing IP networks to carry voice data. As the popularity of PoE grew, security cameras became one of the most abundant PoE devices on the market. Later, wireless access points entered the PoE world, as wireless connectivity became ubiquitous.
So the initial years of PoE focused on enterprise and education applications. However, now there are even PoE devices designed for home automation, including LED lighting, smart doorbells, and voice assistants.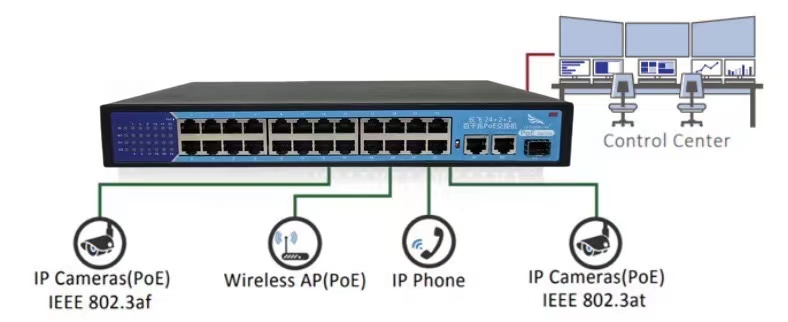 In the above example, a PoE switch is connected to two IP surveillance cameras, a wireless access point, and an IP phone. The switch provides power to all four devices while simultaneously transmitting all device data back to a control center.
---
Post time: Mar-04-2023