Abroad, several cities in France, Spain, the United States and Japan have set record heat records for many years, with the UK issuing a rare red alert for extreme heat. The global average temperature was the highest in 43 years in June, according to the National Climate Center. In August, the temperature remained high.
Near or even above 40℃, people in the Northern Hemisphere are probably the hottest summer. Therefore, when the network equipment is deployed in industrial sites, the stability of ordinary commercial-level switches will be greatly challenged in the face of harsh working environment and serious electromagnetic interference.
In this regard, the industrial Ethernet switch with high reliability, stability and security came into being, and has become a transmission tool that can adapt to the complex industrial environment and is conducive to the industrial automation network deployment.
Because industrial grade switches can tolerate harsh working environment, rich product series and flexible port configuration, they can meet the use requirements of various industrial control fields. With the rapid development of electric power, metallurgy, petrochemical, environmental protection, transportation, construction and other industries, the demand of information construction for industrial Ethernet switches is increasing.So, what are the advantages of industrial grade switches over commercial grade switches?
Features and Advantages of the CF FIBERLINK Industrial Grade Switch
1. Adopt industrial-grade components
The selection of industrial switch components is higher, to better adapt to the needs of industrial production site。
2. Fast ring network, fast redundancy
Industrial level switches generally have the redundancy function, the system redundancy time can be less than 50ms.
3. Super anti-interference performance
Industrial grade switch has a strong anti-interference performance, can work in a harsh electromagnetic environment, and in the lightning protection, corrosion prevention, impact prevention, electrostatic prevention and other aspects have a high level of protection.
4. Adapt to the wide-temperature environment
Industrial grade switches generally use metal shell, better heat dissipation, stronger protection, can work normally in the temperature range of-40℃ ~ + 85℃, can be well adapted to the complex temperature and humidity.
5. Redundant power supply design
Power supply is a very important part of the industrial-grade switch. Power failure generally accounts for more than 35% of the equipment failure rate. In order to avoid the trouble caused by power failure, the industrial-level switch can adopt the dual-power supply redundancy design to ensure the stable and reliable operation of the system.
6. Long service life
Industrial-grade switches from shell materials to supporting components are used in industrial-grade solutions, so the product has higher reliability and longer service life.
 product recommendation:CF FIBERLINKNetwork management type industrial class 2 light 8 electric switch(CF-HY2008G-SFP)
https://www.cffiberlink.com/cf-hy2008gv-sfp-management-industrial-switch-product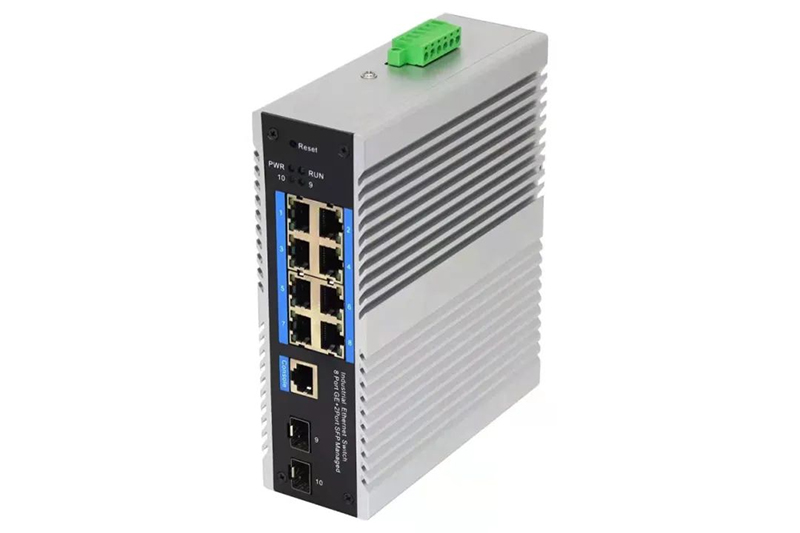 Scheme topology: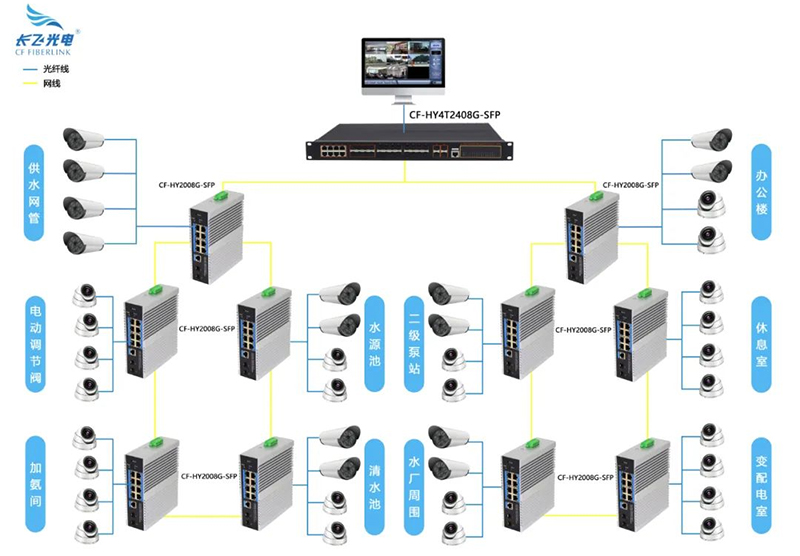 This hot hot day,Technology hopes to bring you some convenience and beauty
CF FIBERLINK will continue to explore new technologies
Enabling thousands of lines and various industries, leading the new future of intelligent Internet of Things
---
Post time: Dec-02-2022