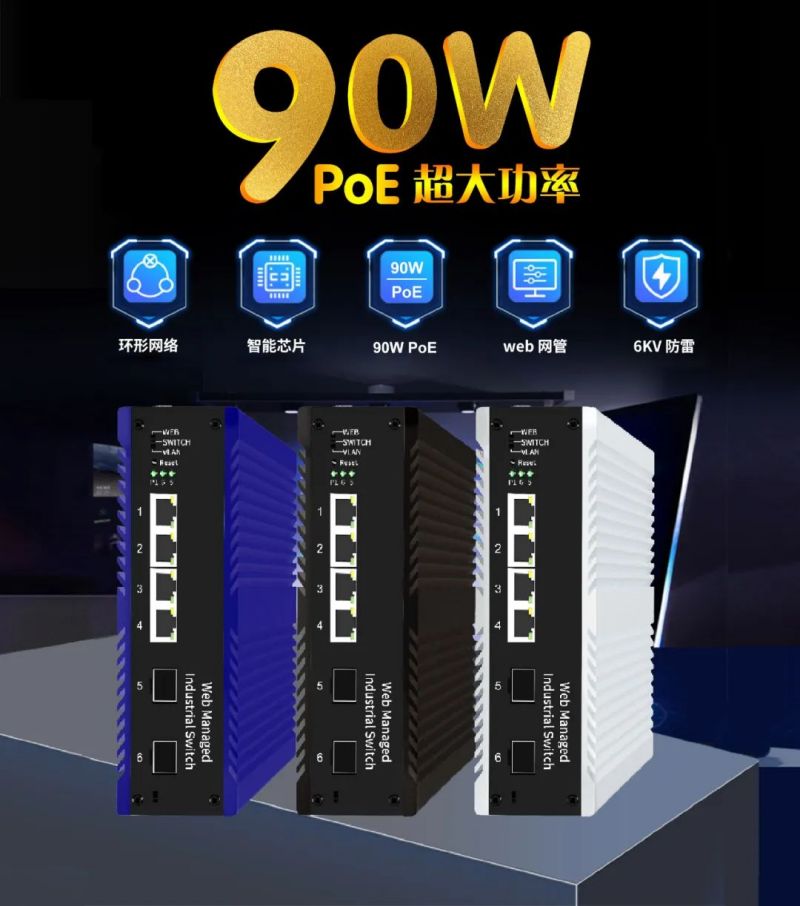 CFW-HY2004GBT-SFP is a high-performance intelligent PoE switch that provides excellent industrial qualities such as vibration resistance, high / low temperature resistance, dust protection and lightning protection; and various rich protocols for integrated routing, exchange and safety; dual power input (DC: 12-57V; AC: 100-240V 50 / 60Hz), and enhances the reliability and safety of the industrial network. The product provides four gigabit Ethernet PoE power ports, which meet IEEE802.3bt standards and can transmit up to 90W of power and data for wireless AP, camera and IP phones. The switch support maximum 90W PoE output, meet all kinds of efficient power solutions, at the same time the product can also in below zero-20℃ to high temperature of 85℃ stable running, without any setting, connect the Internet line can be used directly, without professional network personnel, reduce the operational cost, is the ideal choice of long distance cable monitoring networking scenario.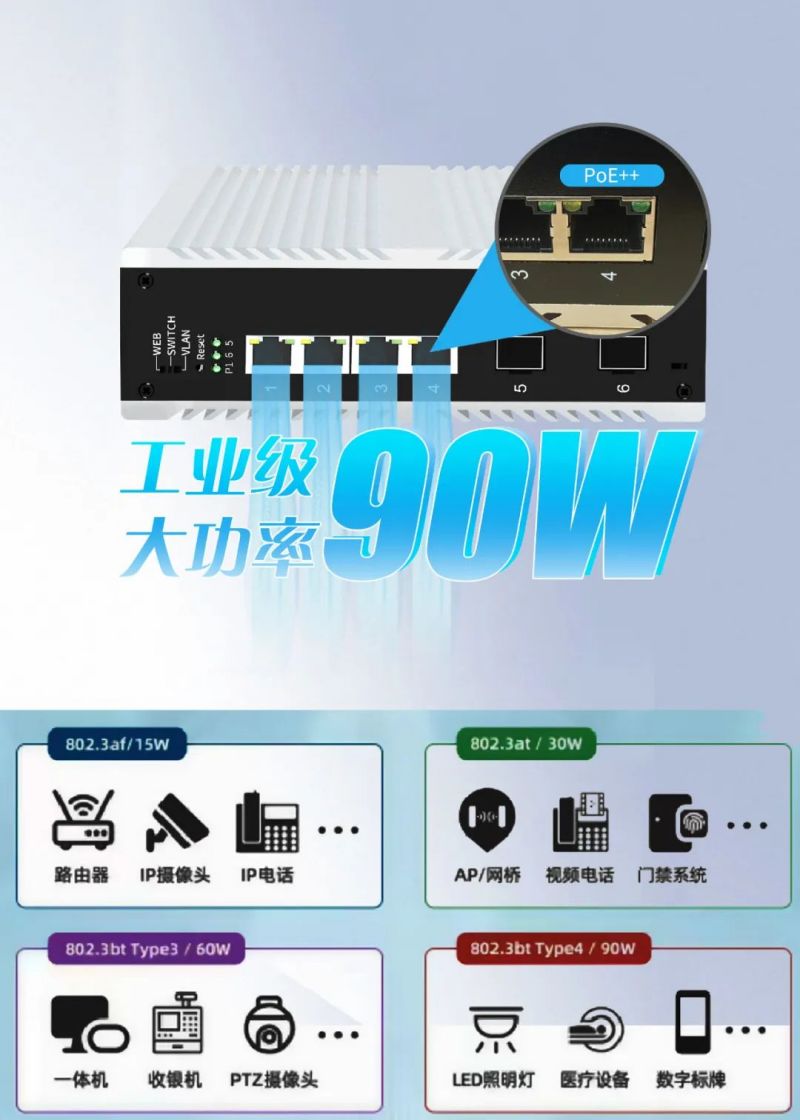 CFW-HY2004GBT-SFP provides four gigabit PoE power supply ports, compatible with IEEE 802.3af/at/bt standard, power supply port can support up to 90W, power output of PoE, support fast PoE technology, immediately start PoE power supply when the switch starts, without waiting for the software control of the switch system to multiple, can realize long-range POE high power supply, meet the requirements of security monitoring and wireless coverage
Flexible expansion ability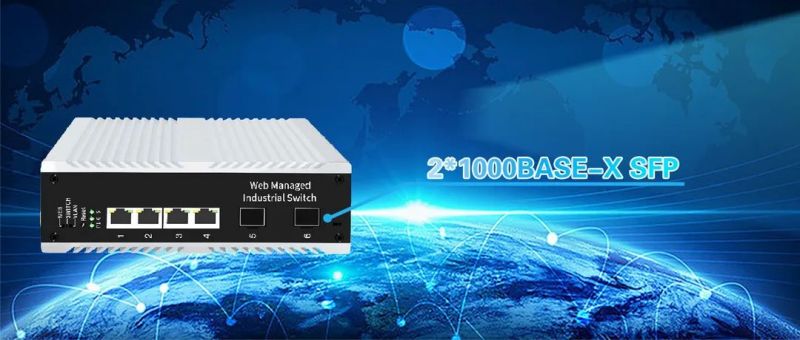 CFW-HY2004GBT-SFP provides two Gigabit SFP ports, can be extended to the core switch, the distance can be extended 120km or farther (depending on the performance of SFP module), applicable to various scenarios.
Rich WEB network management functions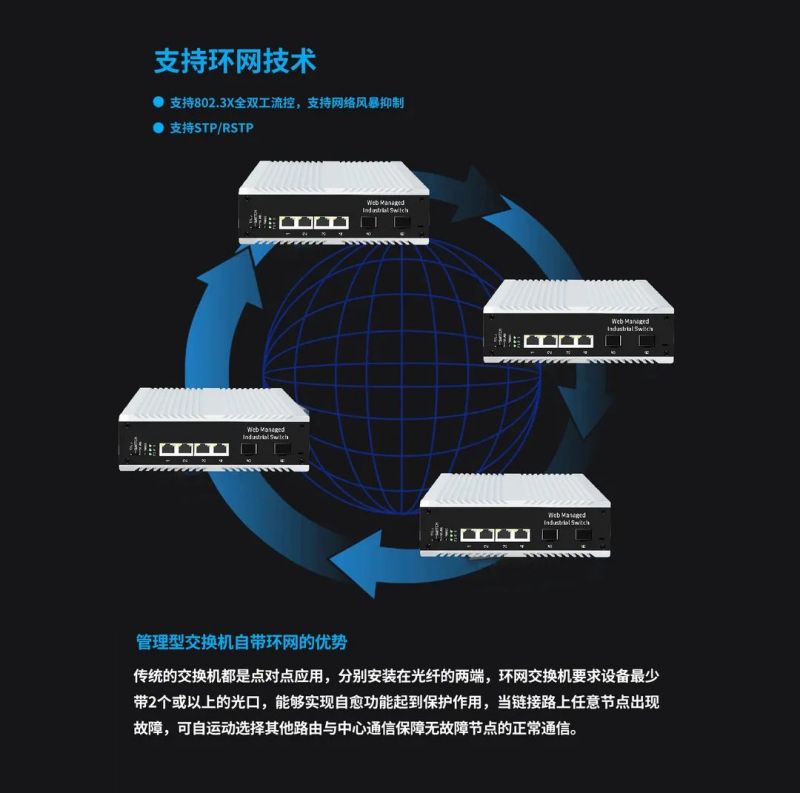 CFW-HY2004GBT-SFP support WEB management function, support STP, RSTP generation tree protocol, VLAN, port monitoring, port convergence, QoS, bandwidth control basic network management function, common industrial site project can be rich network management configuration, rich web management interface, graphic design, all functions directly, let us in the configuration network also have a better experience.
Real industrial design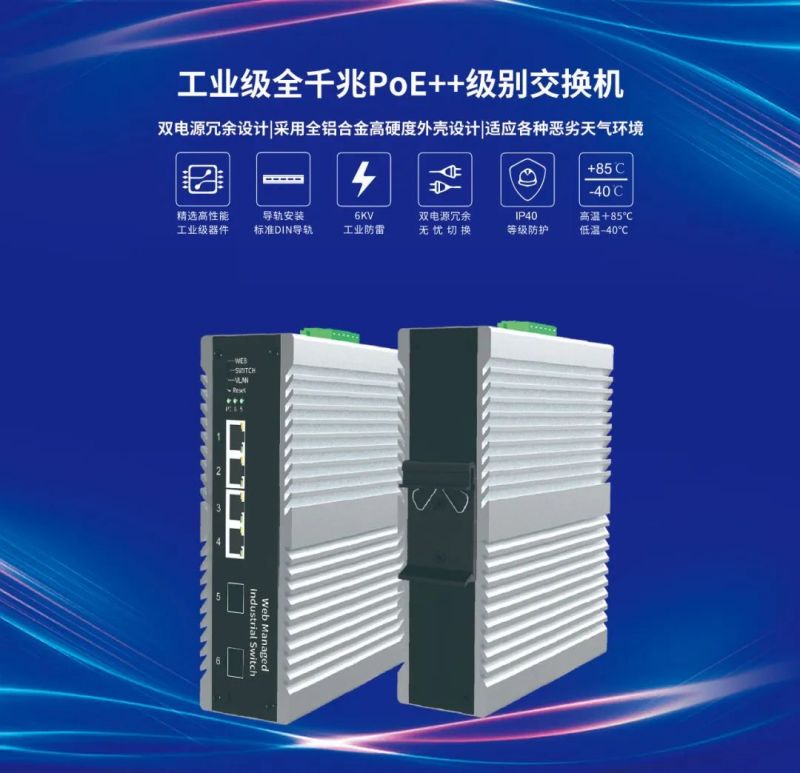 The CFW-HY2004GBT-SFP dual power supply redundancy design, to ensure the stable and reliable operation of the equipment. Compact structure, using all-aluminum alloy high hardness shell design, guide rail type installation. The fanless design is very suitable for the quiet environment required by silent operation. Adapt to a variety of complex environments, plug and play, support-20℃ + 85℃ wide temperature work, support 6kV lightning protection and 8kV electrostatic protection.
---
Post time: Nov-17-2023