9-port 10/100M WDM Media Converter (Single-mode Single-fiber SC)
Product Detail
Product Tags
9-port 10/100M WDM Media Converter (Single-mode Single-fiber SC)
Product Features:
Huizhou Changfei Optoelectronics Technology Co., Ltd. grandly launched the multimode optical fiber transceiver. With a production base of 20,000 square meters and a professional team of more than 30 experienced professionals, our company is honored to bring you this cutting-edge product. With a wide range of features and designed to meet a variety of applications, our multimode fiber optic transceivers are the ultimate solution for outdoor and data center environments.
The multimode fiber optic transceiver is equipped with 1-fiber and 8-fiber single-mode single-fiber A ports for seamless connection and data transmission. This remarkable product supports outdoor and data center fiber connections, making it incredibly versatile and adaptable to a variety of scenarios. It has been designed with the needs of the modern world in mind to provide reliable and efficient communication.
One of the outstanding features of our multimode fiber optic transceivers is their low power consumption. Not only does this result in significant savings in energy usage costs, it also ensures a longer equipment lifespan. In addition, each port of the transceiver supports 4KV lightning protection, which can protect the device from unpredictable weather conditions and protect your valuable data.
We know that different environments present different challenges, which is why our multimode fiber optic transceivers are designed to operate over a wide temperature range. Whether it's extreme heat or cold, the product will continue to perform at its peak, ensuring uninterrupted communication. In addition, the transceiver supports 10KB jumbo frames, allowing efficient transmission of large data packets.
At Huizhou Changfei Photoelectric Technology Co., Ltd., we take pride in our commitment to quality and excellence. With a large number of research and development patents for communication equipment products, we have the ability to provide advanced and reliable solutions to meet your needs. Our multimode fiber optic transceivers are a testament to our commitment to innovation.
In conclusion, Huizhou Changfei Optoelectronics Technology Co., Ltd.'s multimode fiber optic transceivers are a powerful and efficient solution for your communication needs. With its low power consumption, 4KV lightning protection, wide temperature operation, and support for 10KB jumbo frames, the transceiver has become a disruptor in the industry. Trust our expertise, experience and commitment to quality and improve your communication skills with our exceptional products.
 What This Product Does
◇ CF-1018SW-20A is a Hundred megabytes media converter, providing a Hundred megabytesRJ-45 port and a Hundred megabytes SC fiber port, which can convert between electrical and optical signals.
 How This Product Works
◇ CF-1018SW-20A adopts WDM (wavelength division multiplexing) technology, helping send and receive data at a distance of up to 20 km with only a single mode fiber, which saves half of the cable deployment cost for customers. CF-1018SW-20A transmits data at 1310 nm wavelength and receives data at 1550 nm wavelength on optical fiber. Therefore, the terminal device used in conjunction with the CF-1018SW-20A should send data at a wavelength of 1550 nm and receive data at a wavelength of 1310 nm. CF FIBERLINK another media converter CF-1018SW-20B is one of the products that can cooperate with CF-1018SW-20A.
 Other Features
◇ In addition, the media converter can be used as a standalone device for automatic MDI/MDI-X in the TX port, where duplex mode is automatically negotiated.
technical parameter:
 

Model

CF-1018SW-20A

Interface Characteristics

 

Fixed Port

 

8* 10/ 100Base-TX RJ45 port

1* 155M uplink SC fiber port

 

Ethernet Port

 

10/ 100Base-TX auto-sensing, full/half duplex MDI/MDI-X self-adaption

 

Twisted Pair

Transmission

 

10BASE-T: Cat3,4,5 UTP(≤100 meter)

100BASE-T: Cat5e or later UTP(≤100 meter)

   Optical Port

   Default optical module is single-mode single-fiber 20km, SC port

Wavelength/Distance

A-end:  RX1310nm / RX1550nm  0 ~ 40KM

B-end:RX1550nm/ RX1310nm  0 ~ 40KM

A-end:  RX1490nm / RX1550nm  0 ~ 120KM

B-end:RX1550nm/ RX1490nm  0 ~ 120KM

Chip Parameter

   Network Protocol

  IEEE802.3 10BASE-T,    IEEE802.3i 10Base-T,

IEEE802.3u 100Base-TX, IEEE802.3u 100Base-FX, IEEE802.3x

 

Forwarding Mode

 

Store and Forward(Full Wire Speed)

 

Switching Capacity

 

1.8Gbps

 

Buffer Memory

  1.33Mpps

 

MAC

  1K

 

LED Indicator

Fiber

FX(green)

 Data 

1/2/3/4/5/6/7/8(green)

 Power

PWR (green)

Power

  Working Voltage

 

AC:100-240V

 

Power Consumption

 

Standby<1W, Full load<5W

 

Power Supply

 

DC:5V/2A  industrial power supply

Lightning protection &Certification

Lightning protection

Lightning protection: 4KV 8/20us, Protection level: IP30

Certification

CCC;CE mark, commercial; CE/LVD EN60950;FCC Part 15 Class B; RoHS

Physical Parameter

  Operation TEMP 

   -20~+55°C;5%~90% RH Non condensing

   Storage TEMP 

 

   -40~+85°C;5%~95% RH Non condensing

   Dimension (L*W*H)

   140mm* 80mm*28mm

   Installation

    Desktop, CF-2U14 slot rack
Product Size: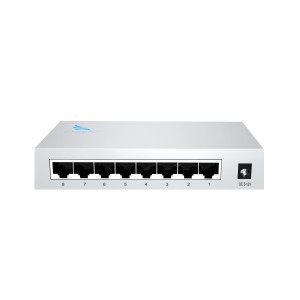 Product application diagra: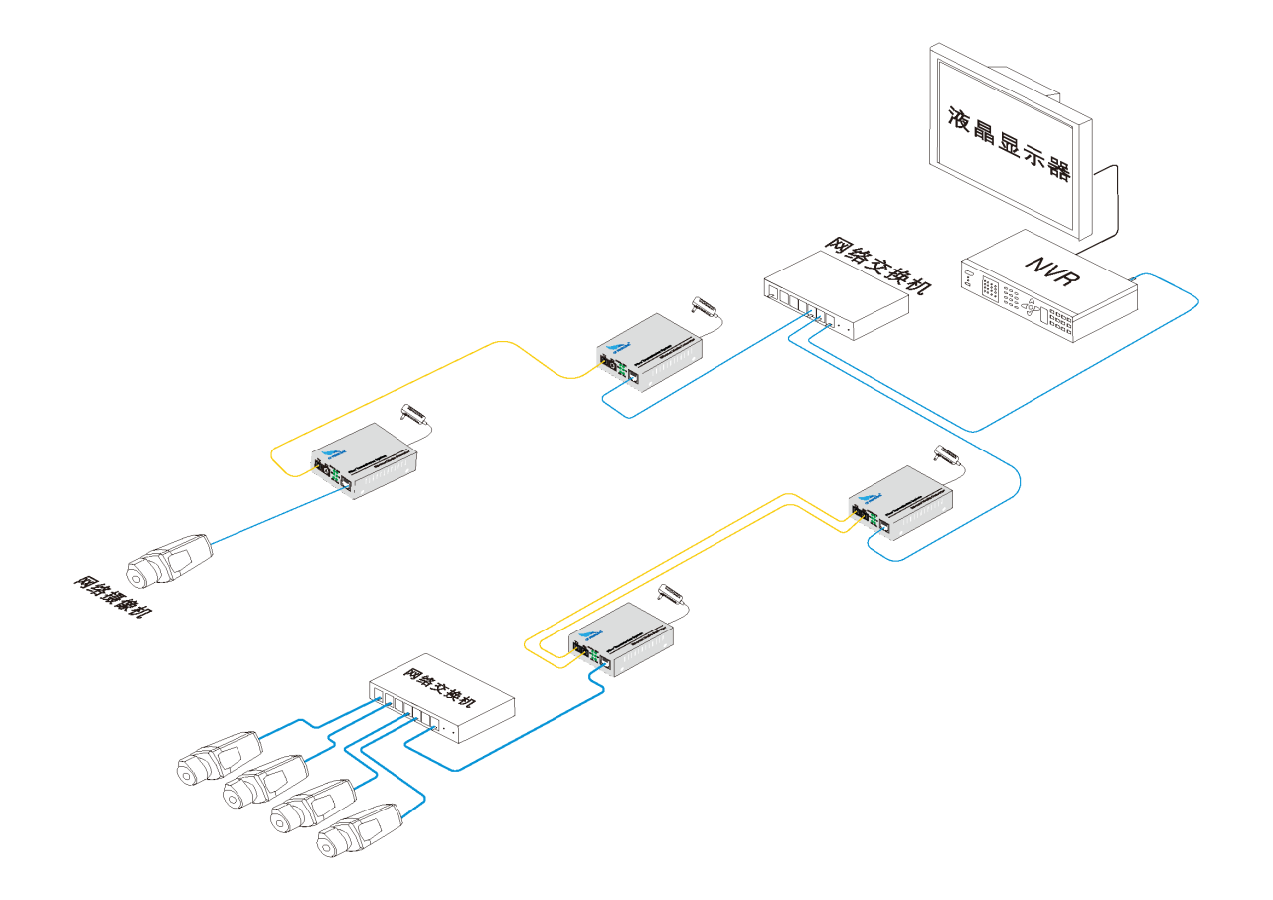 How to choose a fiber optic transceiver?
Optical fiber transceivers break the 100-meter limitation of Ethernet cables in data transmission. Relying on high-performance switching chips and large-capacity caches, while truly achieving non-blocking transmission and switching performance, they also provide balanced traffic, isolation and conflict. Error detection and other functions ensure high security and stability during data transmission. Therefore, fiber optic transceiver products will still be an indispensable part of actual network construction for a long time. So, how should we choose fiber optic transceivers?
1. Port function test
Mainly test whether each port can work normally in the duplex state of 10Mbps, 100Mbps and half-duplex state. At the same time, it should be tested whether each port can automatically select the highest transmission speed and automatically match the transmission rate of other devices. This test can be included in other tests.
2. Compatibility test
It mainly tests the connection ability between the optical fiber transceiver and other devices compatible with Ethernet and Fast Ethernet (including network card, HUB, Switch, optical network card, and optical switch). The requirement must be able to support the connection of compatible products.
3. Cable connection characteristics
Test the fiber optic transceiver's ability to support network cables. First, test the connection ability of Category 5 network cables with lengths of 100m and 10m, and test the connection ability of long Category 5 network cables (120m) of different brands. During the test, the optical port of the transceiver is required to have a connection capability of 10Mbps and a rate of 100Mbps, and the highest must be able to connect to a full-duplex 100Mbps without transmission errors. Category 3 twisted pair cables may not be tested. Subtests can be included in other tests.
4. Transmission characteristics (transmission loss rate of data packets of different lengths, transmission speed)
It mainly tests the packet loss rate when the optical fiber transceiver optical port transmits different data packets, and the connection speed under different connection rates. For the packet loss rate, you can use the test software provided by the network card to test the packet loss rate when the packet size is 64, 512, 1518, 128 (optional) and 1000 (optional) bytes under different connection rates. , the number of packet errors, the number of packets sent and received must be more than 2,000,000. Test transmission speed can use perform3, ping and other software.
5. The compatibility of the whole machine to the transmission network protocol
It mainly tests the compatibility of fiber optic transceivers to network protocols, which can be tested in Novell, Windows and other environments. The following low-level network protocols such as TCP/IP, IPX, NETBIOS, DHCP, etc. must be tested, and the protocols that need to be broadcast must be tested. Optical transceivers are required to support these protocols (VLAN, QOS, COS, etc.).
6. Indicator status test
Test whether the status of the indicator light is consistent with the description of the panel and the user manual, and whether it is consistent with the current status of the fiber optic transceiver.
---
Previous:
9-port 10/100/1000M Media Converter(SFP)
---
Write your message here and send it to us