Industrial grade gigabit fiber optic transceiver (2 optical and 8 electrical)
Product Detail
Product Tags
product description:
Support mutual conversion between 10/100/1000Base-T and 1000Base-FX;
2 full-duplex 1.25Gbps optical ports, 8 10/100/1000Mbps auto-adaptive electrical ports;
10/100/1000M rate self-adaptation, MDI/MDI-X self-adaptation, full/half-duplex self-adaptation;
Optical and electrical links have full connection/status indicators;
Optical interface supports SFP transmission mode;
Support IEEE802.1d Spanning Tree (Spanning Tree) protocol to make networking easier;
Support QoS to ensure the efficient operation of the network;
Support multicast; common mode 4KV lightning protection
Support 5~36V wide voltage input;
Supports transmission of super long data packets up to 10K bytes;
Mini size, 143×117×47.7mm;
Simple to use, plug and play, without any setup;
Using aluminum alloy shell, IP40 protection level, built-in heat sink, can ensure long-term stable work.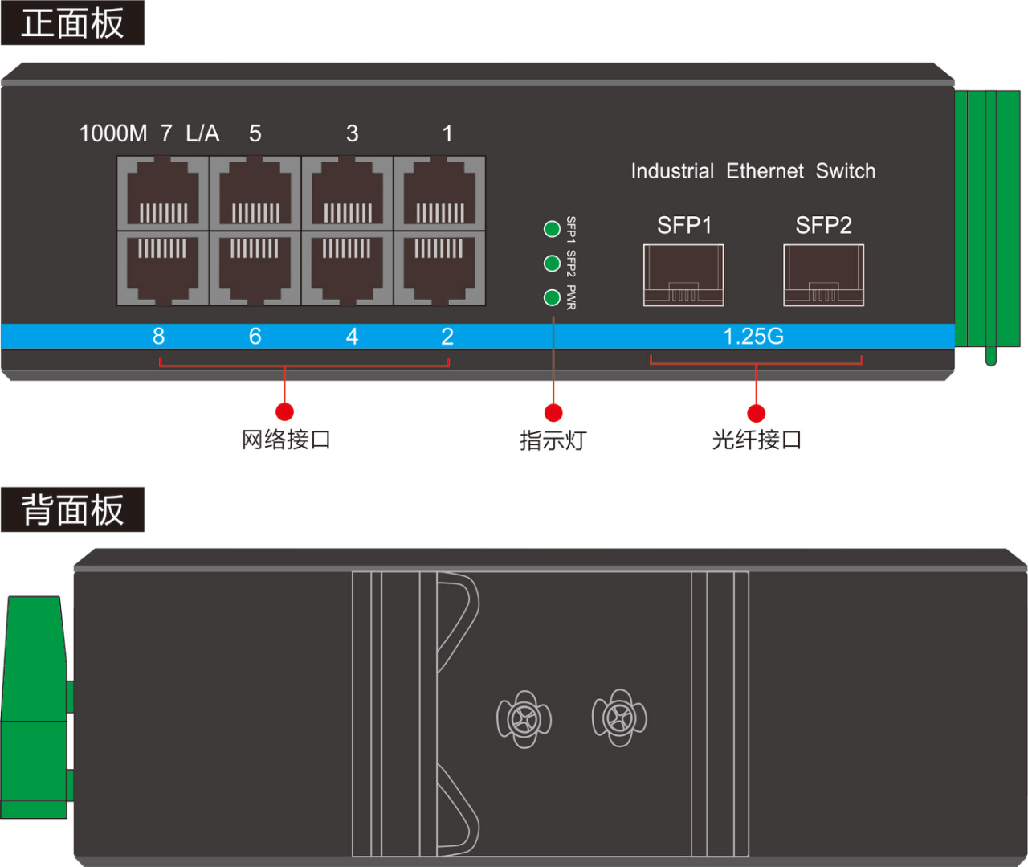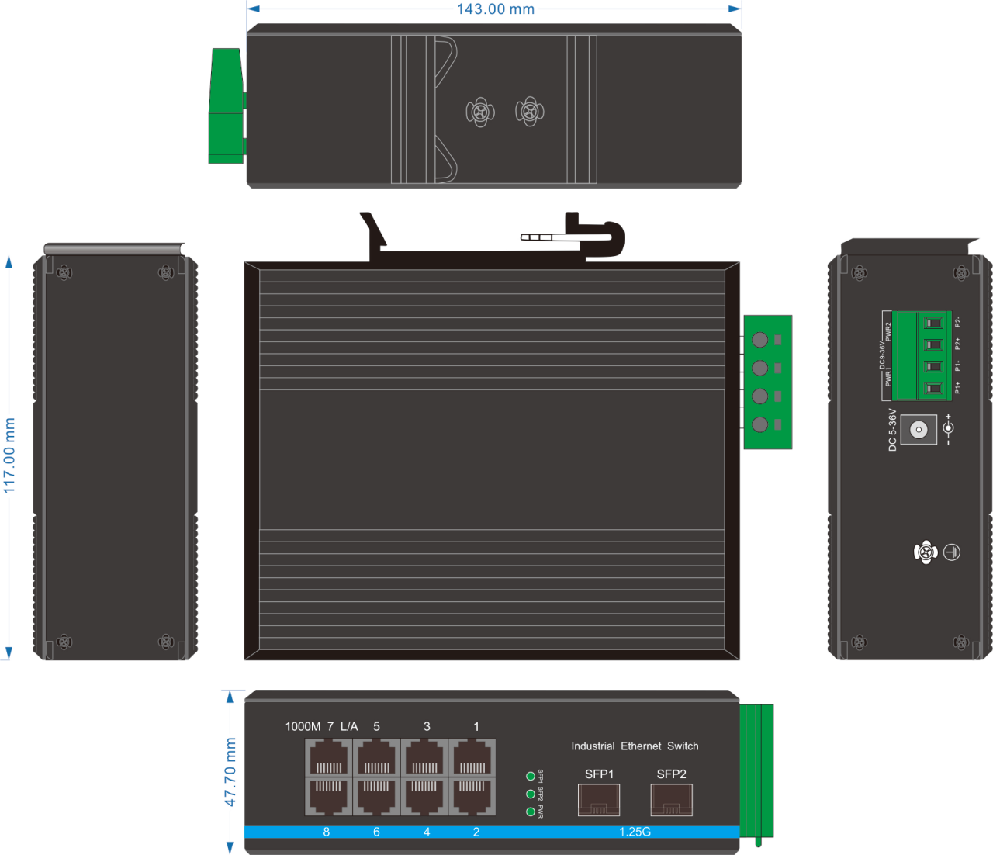 Protocol Standard:

EEE802.310Base-T

EEE802.3u100Base-TX/FX

EEE802.3ab1000Base-T

EEE802.3z1000Base-SX/LX

Electrical port parameters:

Electrical connector: 1 10/100/1000Base-T (RJ45 port)

Transmission rate: 10/100/1000Mbps adaptive

Cable Type: UTP-5E or higher

Transmission distance: 100 meters

Optical port parameters:

Optical port connector: 1 1000Base-X default SFP interface (optional FC/ST/SC interface)

Transmission rate: 1.25Gbps

Fiber wavelength: 1310/1550nm

Transmission distance: 20km

Performance Specifications:

Forwarding method: store and forward

Transmission mode: full-duplex/half-duplex adaptive

MAC address table: 10K

Backplane Bandwidth: 8Gbps

Packet forwarding rate: 5.95Mpps

Network delay: ≤20μs

power supply:

Power Type: External Power Supply

Power input voltage: AC100V~240V50/60Hz

Machine power connector: pluggable DC terminal block

Machine working voltage: 5-36V; 9-36V

Machine power consumption: 1.8W ~ 5W

working environment:

Storage temperature: -45~95℃

Working temperature: -40~85℃

Working humidity: 5%~90% non-condensing

Mechanical structure:

Size: 143×117×47.7mm

Weight: 0.35kg (body)

Body color: aluminum alloy, black, IP40 protection grade,

Rail or desktop installation
The networking mode of fiber optic transceivers
How to monitor the connection between optical fiber transceivers and network cables? Optical fibers transmit optical signals, and network cables transmit network signals. How to communicate is to use optical fiber transceivers. Optical fiber transceivers are essentially a kind of short-distance twisted pair electrical signals and long-distance optical signals Interchangeable Ethernet transmission media conversion units, also known as optical-to-electrical converters. Single-mode fiber optic transceiver: transmission distance of 20-120 kilometers. Multimode fiber optic transceiver: transmission distance is 2-5 kilometers.
All cameras at the front end are collected to the main switch, the switch receives the RJ45 network interface of the transmitter and the transmitter, and optical fiber is used in the middle, and the transceivers are used in pairs. The connection of the optical interface must pay attention to single-mode and multi-mode matching. The transmitting port (TX) of the transceiver at one end is connected to the receiving port (RX) of the transceiver at the other end. The main types of optical fiber interfaces are SC, ST, FC, etc. If it is a single fiber transceiver, only one optical port is TX and RX at the same time.
A centralized optical transceiver is used, and multiple single optical transceivers are placed in one chassis in the form of plug-in cards, and the power is supplied uniformly. All front-end cameras are respectively connected to the A-end of the optical transceiver (A/ B/C/D/E), each transceiver A end is connected to a centralized optical fiber transceiver. Up to 14 10M/100M, 10M/100/1000M or 1000M fiber optic transceivers can be integrated into one rack for easy maintenance.
---
---
Write your message here and send it to us