Industrial grade 8-port Gigabit Ethernet switch
Product Detail
Product Tags
product description:
Support mutual conversion between 10/100Base-TX and 1000Base-TX;
8 10/100/1000 Base-T RJ45 ports;
10/100/10000Mbps rate self-adaptation, MDI/MDI-X self-adaptation, full/half-duplex self-adaptation;
Support IEEE 802.3x full-duplex flow control and Backpressure half-duplex flow control;
Optical and electrical links have full connection/activity status indicators;
All ports support non-blocking wire-speed forwarding for smoother transmission;
Broadcast filtering function, address automatic learning and automatic update function and operation mechanism of store and forward;
Adopt "YOFC" self-developed power supply and high redundancy design to provide long-term stable power output;
Plug and play, simple and convenient to use, without any settings;
With DIP switch, it provides four working modes, which can be switched intelligently and can be selected on demand;
Desktop, wall-mounted installation;
The low-power design of the host, the active fan to enhance heat dissipation, and the metal casing ensure the stable operation of the product;
The equipment meets the national CCC standard, fully meets the safety requirements, and is safe and reliable to use.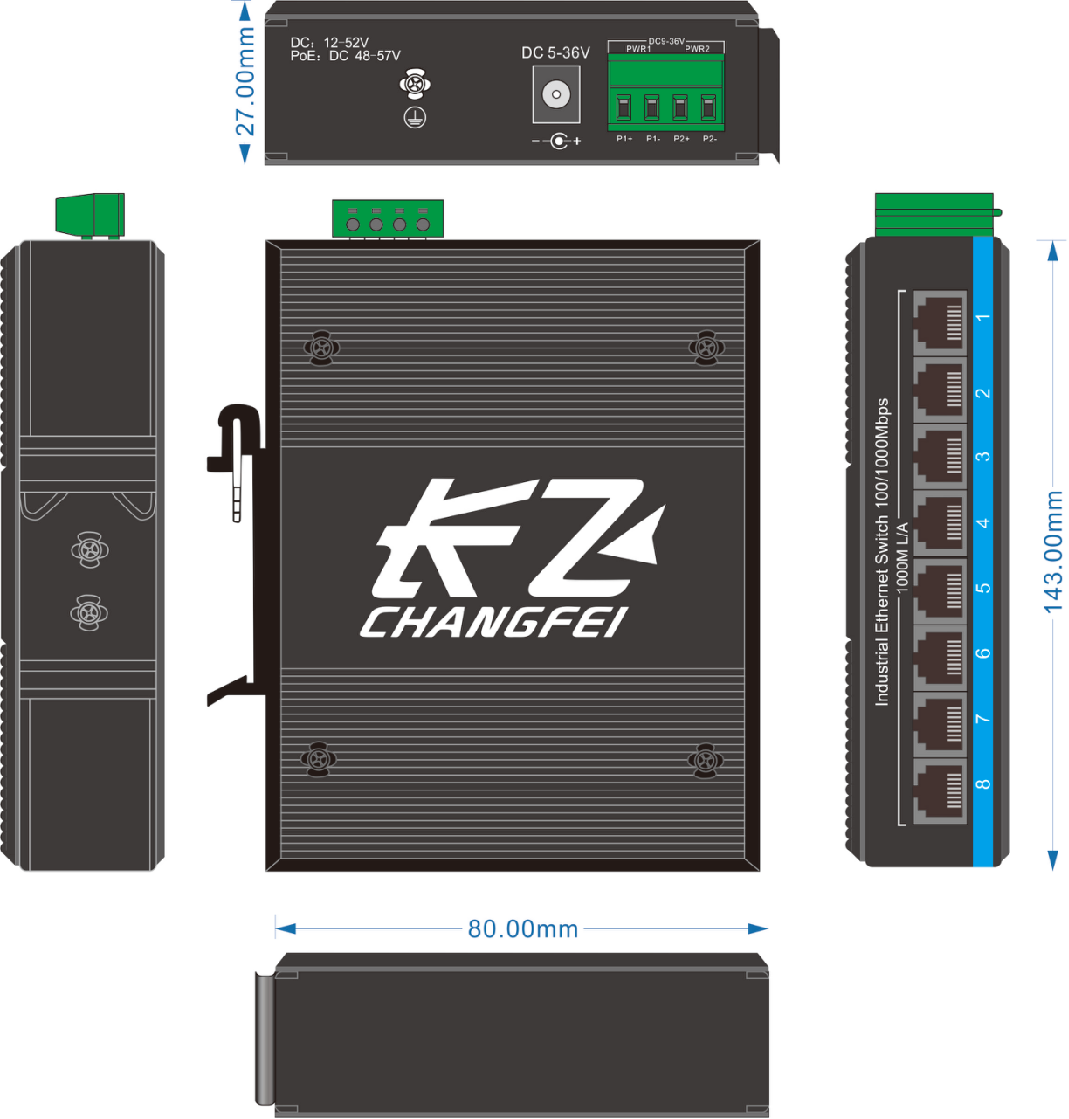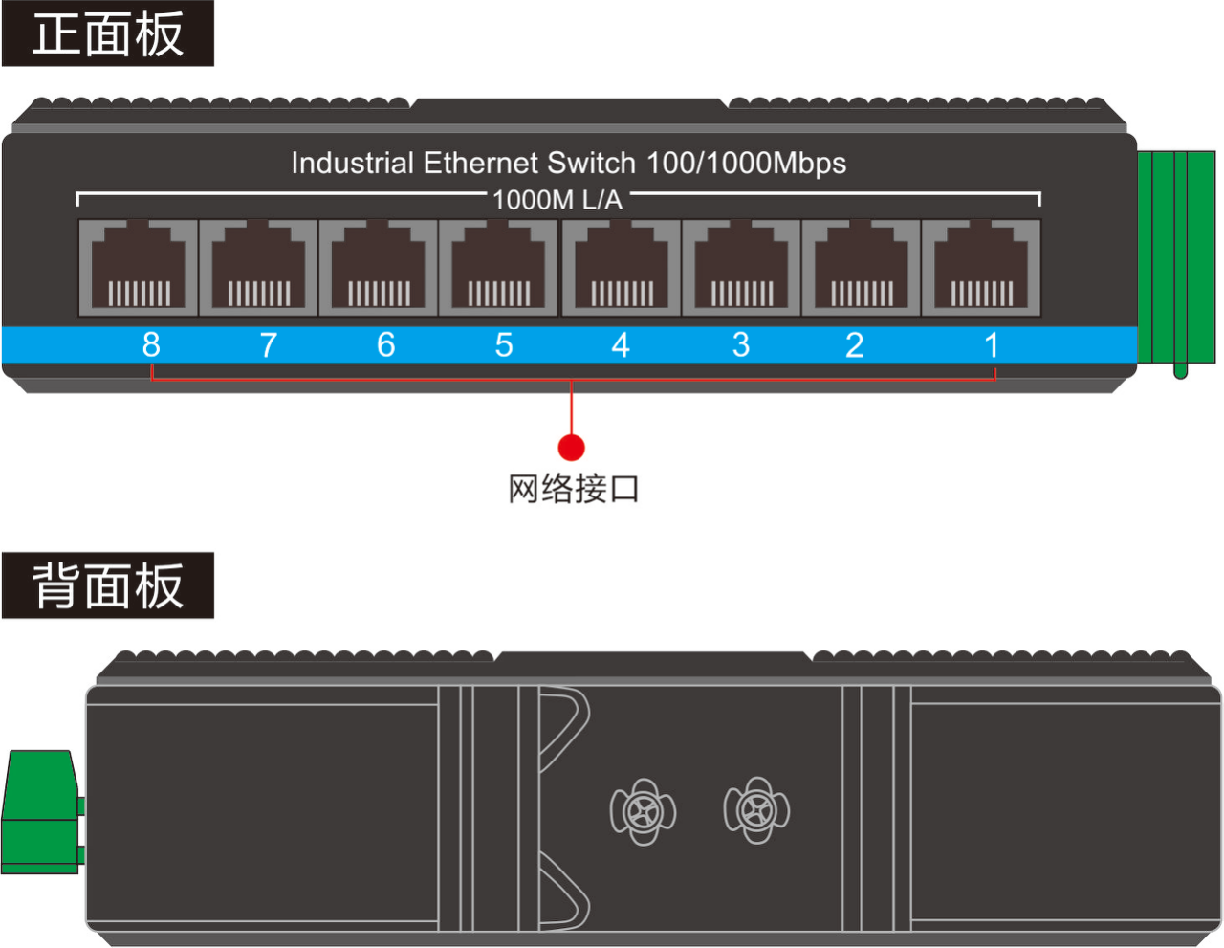 Protocol standard

IEEE802.310Base-T

IEEE802.3x Flowcontrol 

IEEE802.3u100Base-TX/FX

IEEE802.1qVLAN

IEEE802.3ab1000Base-T

IEEE802.1pQoS

IEEE802.3z1000Base-SX/LX

IEEE802.1d SpanningTree

Network port features

Electrical connector: RJ45

Transmission rate: 10/100/1000Mbps adaptive

Cable Type: UTP-5E or higher

Transmission distance: ≤100 meters

Power Specifications

External power adapter: DC 5V1A

The total power of the whole machine: 5W

Standby power consumption: <1.3W (power consumption of the whole machine)

Full load power consumption: <3W (the power consumption of the whole machine

LED indicator

Power indicator: PWR (green);

Data indicator: Link/Act (green)

working environment

Storage temperature: -40 ~ 70℃

Working temperature: -10 ~ 55℃

Working humidity: 10% ~ 90% RH without condensation

Storage humidity: 5% ~ 90% RH without condensation

Safety certification

3C certification;

CE mark, commercial; CE/LVD EN60950

FCC Part 15 Class B; RoHS

Mechanical structure

Dimensions: 143×80×27mm

Net weight: 0.15g

Gross weight: 0.25kg

Body color: aluminum alloy, black, IP40 protection grade

Installation method: rail or desktop installation

warranty period

Switch 3 years, lifetime maintenance
The difference between industrial wireless IP gateway and smart home gateway
No pictures yet Release time: 2018-10-25
Industrial wireless IP gateway, also known as wireless data communication gateway, wireless data acquisition gateway, wireless gateway, has the characteristics of high integration, integrates data reception, protocol conversion, wireless communication transmission and other functions, supports a variety of communication protocols and communication methods, Such as can use GPRS, 433mhz, 2.4G and Ethernet and other communication methods.
The industrial wireless IP gateway is a device that realizes the integration of the three networks, and is also a bridge between the home LAN and the outside world. In addition to the traditional router, CATV, and IP distribution, it should also have wireless forwarding and wireless receiving functions. The communication signal is converted into a wireless signal, so that it can be received in any corner of the home. At the same time, when the remote control device or wireless switch is operated at home, it can receive the signal and then control other terminal devices.
The home intelligent gateway is the heart of home intelligence. It realizes the functions of system information collection, information input, information output, centralized control, remote control, and linkage control. Now the technology of router and TV box integration has been realized.
The smart home gateway has two functions: smart home control hub and wireless routing. One side is responsible for specific security alarms, home appliance control, and electricity information collection. Data interaction with products such as intelligent interactive terminals is carried out wirelessly. It also has wireless routing function, excellent wireless performance, network security and coverage area, smart home gateway is an ideal choice for your wireless home network.
In terms of transmission distance and wireless signal penetration, it can fully meet the current wireless coverage of 3-bedroom, duplex, and duplex units. For villas, it can also basically ensure that wireless signals cover the entire family. So that users do not have to worry about the limitations of wireless signals can not reach.
Classification of industrial wireless IP gateways
Smart home gateways are divided into two types: wireless routing smart home gateways and ordinary smart home gateways.
Wireless routing smart gateway: It has national 3C certification, supports remote control operation, has wireless WIFI router, supports smart electricity consumption, and smart home.
Ordinary smart home gateway: It has national 3C certification, supports remote control operations, supports smart electricity consumption, and smart home.
The development of the industrial wireless IP gateway system is inseparable from the intelligent gateway. The intelligent gateway is the heart of the intelligent home. It realizes the functions of system information collection, information input, information output, centralized control, remote control, and linkage control. Recommended reading: 2 upload methods and application fields of industrial wireless IP gateways
---
---
Write your message here and send it to us