Industrial grade 8-port Fast Ethernet switch
Product Detail
Product Tags
product description:
Support mutual conversion between 10/100Base-TX and 100Base-TX;
8 10/100 Base-T RJ45 ports;
10/100Mbps rate self-adaptation, MDI/MDI-X self-adaptation, full/half-duplex self-adaptation;
Support IEEE 802.3x full-duplex flow control and Backpressure half-duplex flow control;
Optical links and electrical links have complete connection/activity status indicators;
All ports support non-blocking wire-speed forwarding for smoother transmission;
Broadcast filtering function, address automatic learning and automatic update function and operation mechanism of storage and forwarding;
Using the power supply independently developed by YOFC with high redundancy design to provide long-term stable power output;
Plug and play, simple and convenient to use, without any setting;
With DIP switch, it provides four working modes, which can be switched intelligently and selected on demand;
Desktop, wall-mounted installation;
The low-power design of the host, the active fan to enhance heat dissipation, and the metal shell ensure the stable operation of the product;
The equipment meets the national CCC standard, fully meets the safety requirements, and is safe and reliable to use.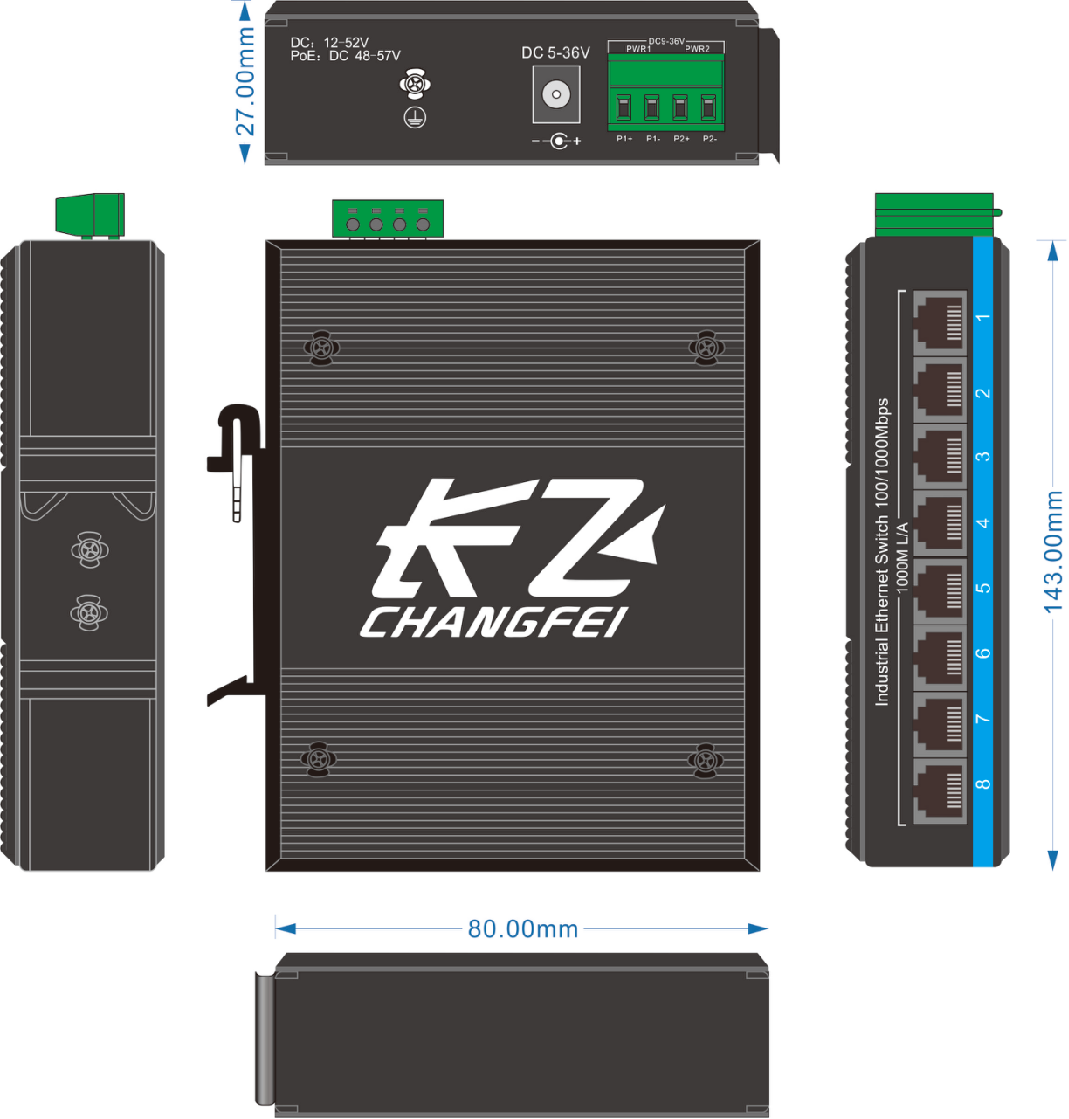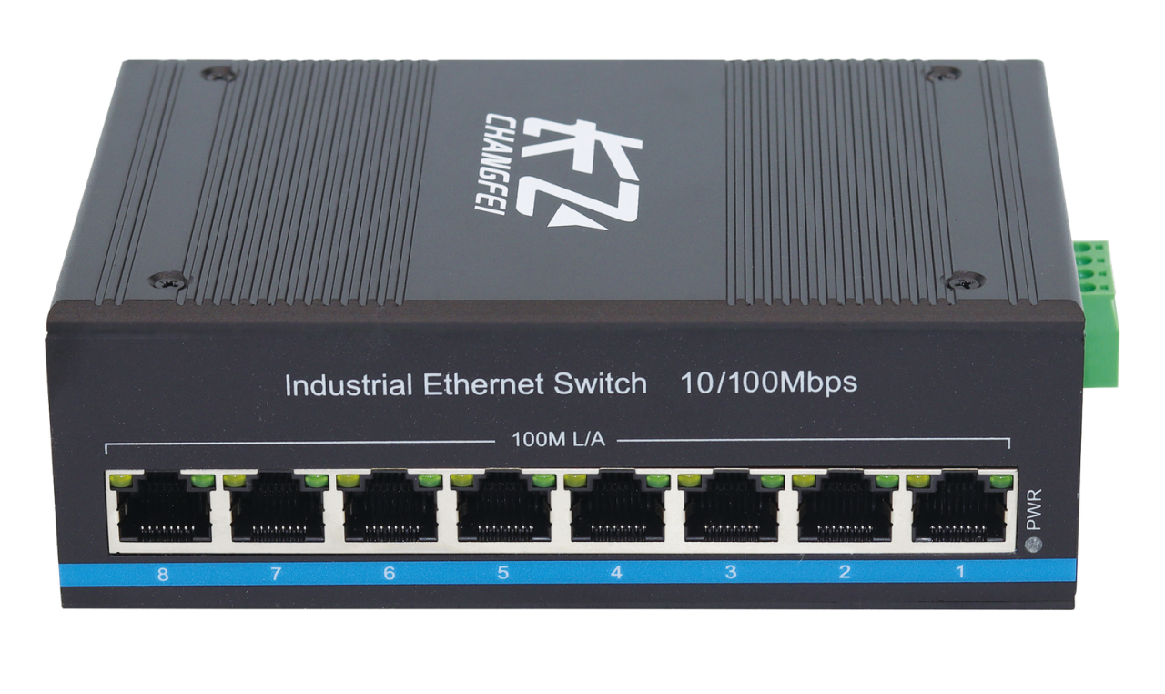 Protocol standard

IEEE802.310Base-T

IEEE802.3u100Base-TX/FX

IEEE802.3ab100Base-T

IEEE802.3z100Base-SX/LX

Network port features

Electrical connector: RJ45

Transmission rate: 10/100Mbps adaptive

Cable Type: UTP-5E or higher

Transmission distance: ≤100 meters

Power Specifications

External power adapter: DC 5V1A

The total power of the whole machine: 5W

Standby power consumption: <1.3W (power consumption of the whole machine)

Full load power consumption: <3W (the power consumption of the whole machine

LED indicator

Power indicator: PWR (green);

Data indicator: Link/Act (green)

working environment

Storage temperature: -40 ~ 70℃

Working temperature: -10 ~ 55℃

Working humidity: 10% ~ 90% RH without condensation

Storage humidity: 5% ~ 90% RH without condensation

Safety certification

3C certification;

CE mark, commercial; CE/LVD EN60950

FCC Part 15 Class B; RoHS

Mechanical structure

Dimensions: 143×80×27mm

Net weight: 0.15g

Gross weight: 0.25kg

Body color: aluminum alloy, black, IP40 protection grade

Installation method: rail or desktop installation

warranty period

Switch 3 years, lifetime maintenance
1. The role of industrial switches
Industrial Ethernet switches are mainly used to transmit Ethernet data in real time in complex industrial environments. During the design of Ethernet, due to its use of carrier sense multiplexing conflict detection, it is applied in complex industrial environments, and the reliability is greatly reduced, resulting in Ethernet can not be used. The switching method of industrial Ethernet switch storage conversion can greatly improve the speed of Ethernet communication, and the built-in intelligent alarm design monitors the network operation status to ensure the stable operation of Ethernet in harsh environments to the greatest extent.
2. The difference between industrial switches and ordinary switches
The difference between industrial Ethernet and ordinary switches is mainly reflected in function and performance.
Functional difference: Industrial Ethernet switches are functionally closer to industrial network communication, such as interconnection with various field buses;
The difference in performance: mainly reflected in the adaptation to the different external environmental parameters. In addition to particularly harsh environments such as coal mines and ships, industrial environments also have requirements for electromagnetic compatibility, temperature, and humidity. Among them, temperature has the most extensive influence on industrial equipment.
Whether it is in terms of components, mechanical environment, climatic environment or electromagnetic environment, working voltage, power supply design, installation method, and heat dissipation method, the performance of industrial Ethernet is better than that of ordinary switches.
3. The difference between industrial Ethernet switches and ordinary switches
Generally speaking, switches refer to Ethernet switches. Ethernet switches are generally divided into commercial switches, industrial switches, and home switches.
Commercial switches are generally used in corporate offices and other occasions. They are generally rack-mounted and installed in corporate computer rooms. They usually require high reliability, 24h uninterrupted operation, large bandwidth, and many interfaces. Industrial Ethernet switches are generally used in industrial production occasions. According to the requirements of the occasion, there will be different appearances and various installation forms, requiring waterproof, dustproof, shock resistance, anti-electromagnetic interference and other requirements, and also requires 24h uninterrupted long-term operation.
---
---
Write your message here and send it to us