Gigabit Fiber Transceivers
Product Detail
Product Tags
product description:
This product is a gigabit fiber optic transceiver with 1 gigabit optical port and 2 1000Base-T(X) adaptive Ethernet RJ45 ports. It can help users realize the functions of Ethernet data exchange, aggregation and long-distance optical transmission. The device adopts fanless and low power consumption design, which has the advantages of convenient use, small size and simple maintenance. The product design conforms to the Ethernet standard, and the performance is stable and reliable. The equipment can be widely used in various broadband data transmission fields such as intelligent transportation, telecommunications, security, financial securities, customs, shipping, electric power, water conservancy and oil fields..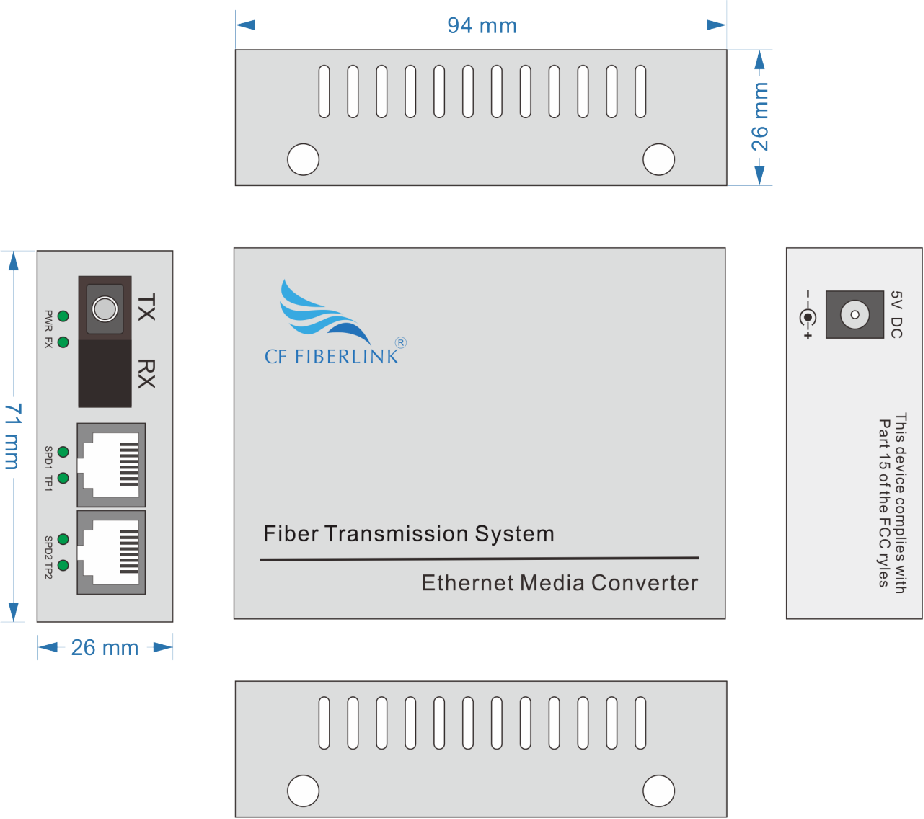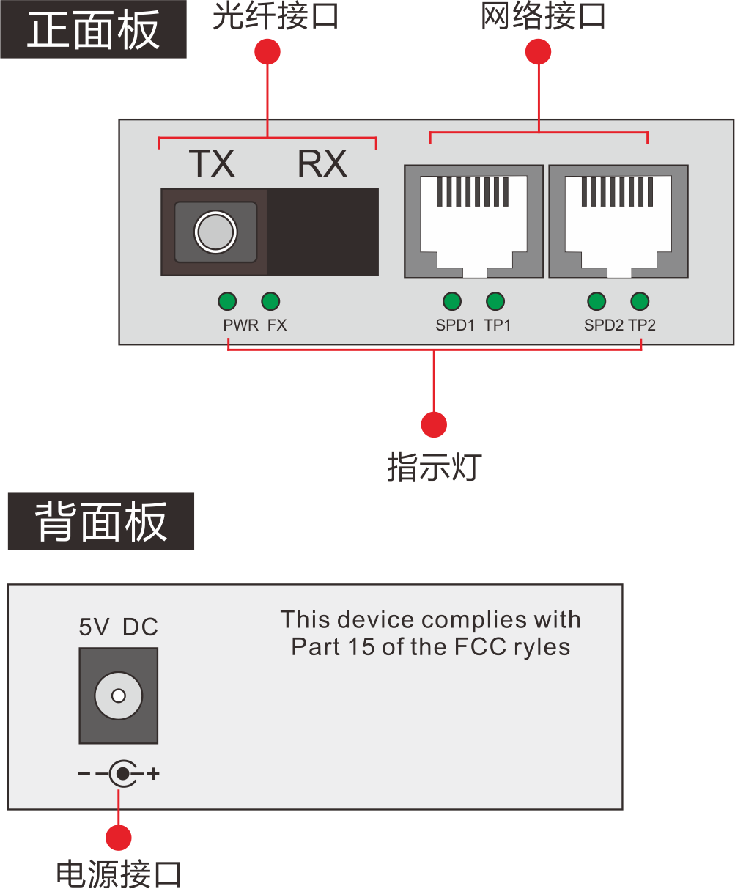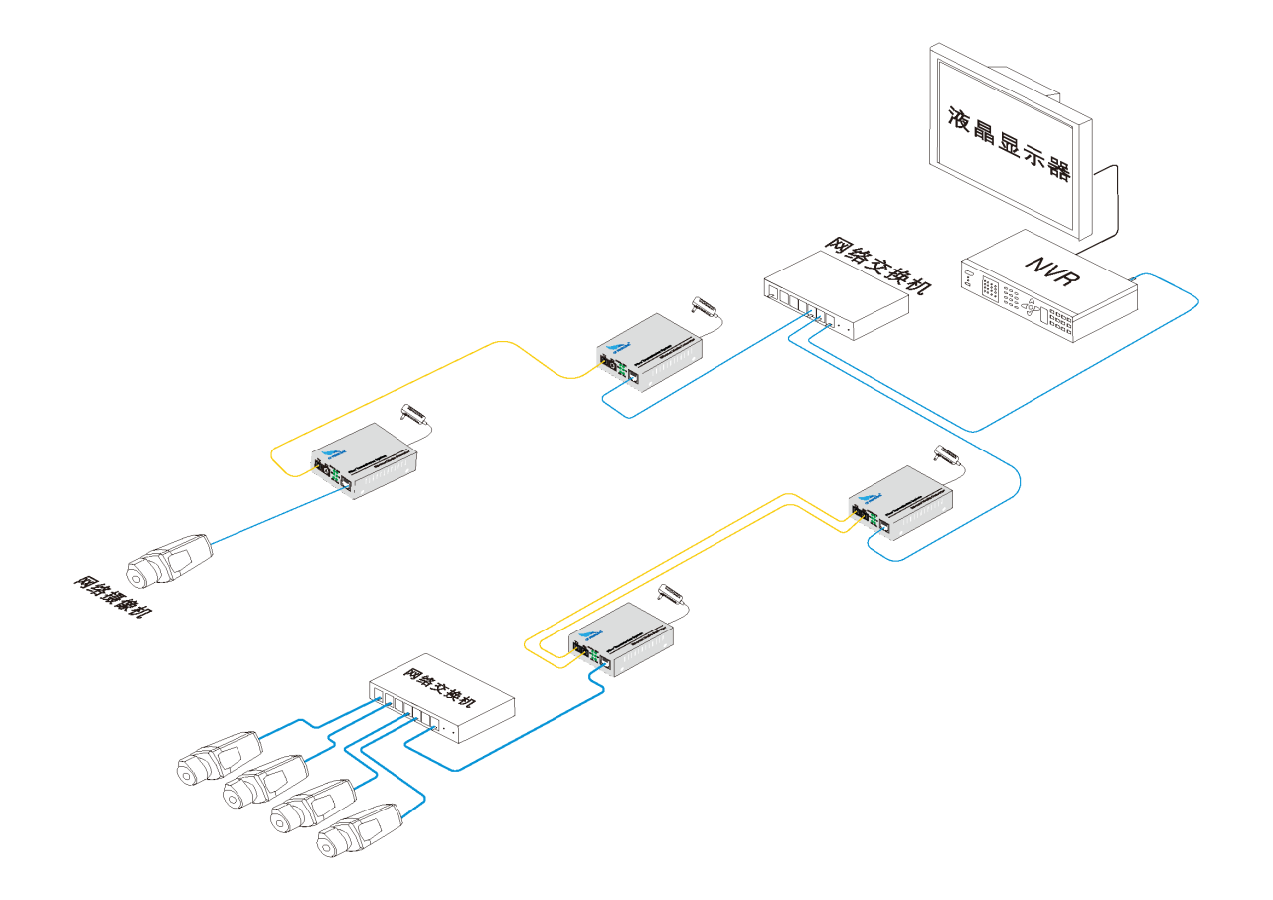 model

CF-1012GSW-20A/B

network port

2×10/100/1000Base-T Ethernet ports

Fiber port

1×1000Base-FX SC interface

Power interface

DC

led

PWR, FDX, FX, TP, SD/SPD1, SPD2

rate

100M

light wavelength

TX1310/RX1550nm

web standard

IEEE802.3, IEEE802.3u, IEEE802.3z

Transmission distance

20KM

transfer mode

full duplex/half duplex

IP rating

IP30

Backplane bandwidth

6Gbps

packet forwarding rate

4.47Mpps

Input voltage

DC 5V

Power consumption

Full load<5W

Operating temperature

-20℃ ~ +70℃

storage temperature

-15℃ ~ +35℃

Working humidity

5%-95% (no condensation)

Cooling method

fanless

Dimensions (LxDxH)

94mm×71mm×26mm

weight

200g

Installation method

Desktop/Wall Mount

Certification

CE, FCC, ROHS

LED indicator

condition

meaning

SD/SPD1

Bright

The current electrical port rate is gigabit

SPD2

Bright

The current electrical port rate is 100M

extinguish

The current electrical port rate is 10M

FX

Bright

Optical port connection is normal

flicker

Optical port has data transmission

TP

Bright

The electrical connection is normal

flicker

The electrical port has data transmission

FDX

Bright

The current port is working in full duplex state

extinguish

The current port is working in half-duplex state

PWR

Bright

Power is OK
What do I need to pay attention to when choosing a compatible fiber optic transceiver?
What to pay attention to when purchasing a compatible fiber optic transceiver:
Compatibility - The transceiver is not compatible with your original brand switch. Lifetime - Transceivers are of unreliable quality and have a short lifespan. Poor performance - high latency, etc. Other - Refurbished modules, power consumption, etc.
How to ensure the quality of compatible fiber optic transceivers?
1. Professional testing process
Make sure that the compatible fiber optic transceivers you purchase have been tested on the relevant original brand switches. For example, when you purchase a compatible fiber optic transceiver, make sure it is tested on the switch. In general, tested and compatible fiber optic transceivers always guarantee flawless performance in your network.
2. Guarantee Warranty Policy
Shopping experience tells us that inferior products usually have short-term warranties. If there is a problem with your product, the supplier will not provide you with any repairs and returns. Conversely, if the warranty period is long, such as a lifetime warranty, the quality of the product may be more reliable and stable.
3. Reputable brand suppliers
With strict quality control system and years of OEM experience, reputable brand suppliers can usually provide reliable and stable connections for your high-speed optical fiber transmission system. All the raw materials they use are safe and the performance is comparable to the original.
Reliable and compatible optical transceiver structure details
In addition to the considerations mentioned above, it may also be of great help to you to understand the structural details of a well-compliant fiber optic transceiver.
1. High quality metal shell
Good fiber optic transceivers use high-quality pluggable hard gold plating to ensure repeated plugging and unplugging. In addition, through tight control of gold plating thickness, excellent quality can be achieved, good connections are ensured, and operating temperatures are reduced.
2. High quality laser
The high-quality laser has the characteristics of high sensitivity, low attenuation and high quality, which ensures perfect signal transmission and reception.
3. Advanced Chips
Advanced chips provide module solutions with high performance and low power consumption, ensuring high-speed signal transmission and stable performance.
4. The perfect combination
The combination of gold finger (conductive metal), chip, and metal housing form the perfect fiber optic transceiver
---
---
Write your message here and send it to us