40 Gigabit Optical 24 Gigabit Electric (8 Combo Ports) Steel Alloy
Product Detail
Product Tags
◎ product description
The CF-HY4T8024S-SFP switch is a ten gigabit three-layer core switch launched by the company, and the ZX824GST4-SFP switch is an enhanced IPv6 trillion megabit Ethernet switch, with advanced hardware processing capabilities and the most abundant business features. The whole machine adopts modular design, support up to 4 gigabit SFP + ports, retain further support 10GE expansion capability when realizing gigabit convergence or access, support IPv4 / IPv6 hardware dual stack and line speed forwarding, so that customers can calmly deal with the upcoming IPv6 era to provide high capacity exchange capability, ZX824GST4-SFP switch has-40℃ ~85℃ working temperature, with strong firmness to meet a variety of harsh environments, can also be very convenient in the machine room cabinet. Rack-type installation characteristics and wide-temperature operation make the ZX824GST4-SFP switch a plug and play industrial-class device, providing a reliable and convenient solution for users' Ethernet equipment networking.
◎ functional characteristics
 Rich port types, flexible port extension
The CF-HY4T8024S-SFP switch supports 410 Gigabit SFP + ports, and users can flexibly choose 1-410 Gigabit ports according to the networking situation. The ZX824GST4-SFP also provides a variety of Gigabit ports that can meet the different networking needs of large network convergence or small and medium-sized network cores.
Strong processing power
 The CF-HY4T8024S-SFP switch is based on the VCore-III MIPS-based CPU strong, stable processing capacity;
CF-HY4T8024S-SFP provides an exchange capacity of up to 360Gbps, and the full port speed filters and forwards 131Mpps; to ensure the large traffic data of the trunk network without blocking forwarding.
Perfect security control strategy
Support for port-based user IP + MAC address authentication, port-based 802.1X authentication, remote Radius, NAS authentication,
 Support for IP ACL, MAC ACL, Vlan ACL, support for the ACL function based on three and four layers, effective defense against ARP attacks and viruses;
Support the perfect storm control function, can be broadcast, multicast, unicast storm suppression.
 Support the unique ARP intrusion detection function, can effectively prevent hackers or attackers through the ARP message implementation of the increasingly popular "ARP deception attack";
 Support IP Source Guard features to prevent illegal address counterfeiting including MAC cheating, IP cheating, MAC / IP deception, and DoS attacks from high traffic address counterfeiting.
Provide the DHCP Snooping (listening) function, by establishing and maintaining the DHCP Snooping binding table, realize the listening to the access users' MAC address, IP address, lease period and other information, and solve the IP and port tracking and positioning problems of DHCP users.
 Complete reliability protection mechanism and convenient management and maintenance
The CF-HY4T8024S-SFP switch uses the CPU protection strategy to classify the messages sent to the CPU to avoid the attack and resource consumption of the CPU caused by illegal attack messages;
Support STP, RSTP, MSTP and other generative tree protocols, fast convergence, improve fault tolerance, ensure the stable operation of the network and link load balance, reasonable use of network channels, improve the utilization rate of redundant links;
 Support the industrial-level Ethernet ring network protocol ERPS, to provide a millisecond level of quick business conversion performance, to ensure that the business without interruption. And the protocol is simple and reliable, with high inversion performance, convenient maintenance, and flexible topology, which can greatly facilitate users for network management and planning;
Using industrial grade switch power supply, with lightning protection design, anti-overvoltage design, anti-surge design, the voltage can adapt to the 110-240V large range, to ensure the normal operation of the network in adverse natural weather and voltage instability environment.
Through the simple visual WEB interface (support for http and https protocol), the various functions of the switch can be simple and convenient operation;
Support SNMP V1 / V2 / V3 network management for equipment configuration management;
Support command line configuration (CLI), management through Telnet, Console port;
Support SSH2.0 and other encryption methods to make management more secure;
Support PDP, LLDP protocols, make network management easier;
Support the NTP clock protocol, which can automatically synchronize the network time;
Support the port short connection to restore the factory Settings, make the maintenance more simple;
◎ product technical indicators
product model:

CF-HY4T8024S-SFP

Product port:

2410 / 100 / 1000M power ports + 8 Gigabit SFP multiplexed light ports + 40 Gigabit light ports

Management ports:

1 Console port

reset key:

One restored factory setting hole

exchange capacity:

360Gbps

Package forwarding rate:

131Mpps

Digital alarm tube:

support

MAC address:

Support for the 32K MAC address table;Support automatic update, two-way learning;

DHCP :

Support for DHCP Client; support for DHCP Server;Support for DHCP Snooping; support for DHCP Relay;

working temperature:

—40~85°C

Storage temperature:

—40~85°C

Working humidity:

10%~90% No condensation

Storage humidity:

5%~95% No condensation occurs

Appearance size:

440(L)×285(W)×44.5(H)mm

Weight of the whole machine:

<4Kg

input voltage:

AC:110~240V/50~60Hz

Complete power consumption:

<45W

Port convergence:

Support for 14 sets of aggregation, with up to 16 ports for each group;Support for static aggregation, dynamic aggregation

Port mirror image:

Supports many-to-one port mirrors, with no limit on the number of mirror source ports

Loop protection:

Support for loop detection / loop avoidance

Ring network agreement:

Support for industrial-level ring network protocol ERPS

Port flow control:

Support semi-duplex based on back pressure control;

Port speed limit:

Support for full-duplex frame based on PAUSE frame;

IP route:

Support for ports-based input / output bandwidth management




Supports static routing;




Dynamic routing support for RIP, OSFP;

QOS :

SP (Strict Priorty), strict priority rotation algorithm;
WFQ (Weighted Fair Queuing) weighted fair queuing;
WRR (Weighted Round Robin), the weighted priority rotation algorithm;
Random Early Detect (RED), a randomized early detection algorithm;
WeightedRandomEarlyDetection (WRED), a weighted randomized early detection algorithm;
Head Of Line, to prevent the congestion mechanism;
Best-Effort Service, to do your best to serve;
First come first served, the first come, first come, service algorithm;
The 802.1p port queue priority algorithm;
Cos / Tos, QOS mark;
Differentiated Service, Distinguishable service;

Network cable sequence:

Support Auto-MDIX function, automatically identify straight through and cross network cable

system maintenance:

Support configuration file upload / download; support upgrade package upload;Support the WEB to restore the factory configuration; support the system log function;support Ping;Support WEB interface management (support http and https protocol);Support CLI interface management; support Telnet remote management;Support SSH 2.0; support SNMP network management;Support RMON; support NTP client;

VLAN :

Up to 4,096 VLAN support;Support for a port-based VLAN;A VLAN supporting the 802.1Q standard;Support for MAC VLAN;Support for Protocol VLAN;

Storm suppression:

Support the suppression of broadcast, multicast, unicast, etc

generation tree:

Support for the STP generation tree protocol;
Support for the RSTP fast tree generation protocol;
Support for the MSTP multi-generation tree protocol;

Support the protocol standards:

EEE 802.3ad, the link polymerization protocol;




IEEE 802.3,10BASE-T Ethernet;




IEEE 802.3u, the fast Ethernet standard;




IEEE 802.3ab, Gigabit Ethernet standard;




IEEE 802.3z, Gigabit Ethernet optical fiber standard;




IEEE 802.3ae, 10G Ethernet standard;




IEEE 802.3x, full-duplex Ethernet data link layer flow control;




IEEE 802.3az, EEE energy-saving Ethernet standard;

Negotiation mode:

Support for automatic port negotiation function (self-negotiation transmission rate and duplex mode)

Hostrom control:

Support for IGMP Snooping;




Support for MVR (Multicast VLAN Registration) function;




Support for MLD Snooping (Multicast Listener Discovery Snooping);

Safety features:

Hardware support for IP ACL, MAC ACL, Vlan ACL, support for ACL functions based on three and four layers;Hardware supports port-based IP + MAC binding;Support IP Source Guard; support ARP Detection function;Support IEEE 802.1x port authentication; support Radius authentication;Support TACACS + authentication; support user level management and password protection;

attestation:

Pass the certification: CE, FCC, Rohs, ISO9001:2008 Ministry of Industry and Information Technology Network Access License Ministry of Public Security Inspection Report Safety: UL508

Average fault-free time:

At 300,000 Hrs

Quality Assurance:

Five years
◎ product appearance size
Length, x, length, width, x, height (mm): 440 x 285x 44.5mm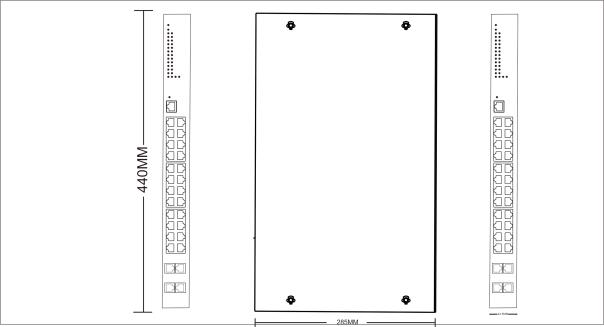 ◎ product application diagram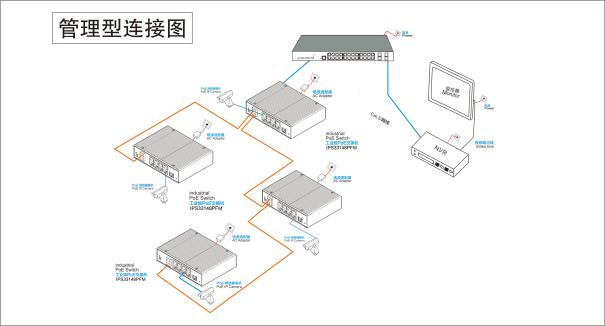 ◎ order model information
| | |
| --- | --- |
| model | description |
| CF-HY4T8024S-SFP | 2410 / 100 / 1000M electrical ports; 8 Gigabit SFP reuse optical ports; 4 Gigabit optical ports; 1 Console port; AC220V power supply-Wide temperature (-40℃ -85℃) -CE-RoHS-FCC-Ministry of Public Security Inspection Report-Ministry of Industry and Information Technology Network Access License |
---
Next:
24 Gigabit + 8 Gigabit + 40 gigabit SFP + Ten thousand gigabit network pipe type rack type industrial convergence switch (CF-HY4T2408G-SFP )
---
Write your message here and send it to us