100M fiber optic transceiver (one optical and two electrical)
Product Detail
Product Tags
product description:
This product is a 100M fiber transceiver with 1 100M optical port and 2 100Base-T(X) adaptive Ethernet RJ45 ports. It can help users realize the functions of Ethernet data exchange, aggregation and long-distance optical transmission. The device adopts fanless and low power consumption design, which has the advantages of convenient use, small size and simple maintenance. The product design conforms to the Ethernet standard, and the performance is stable and reliable. The equipment can be widely used in various broadband data transmission fields such as intelligent transportation, telecommunications, security, financial securities, customs, shipping, electric power, water conservancy and oil fields.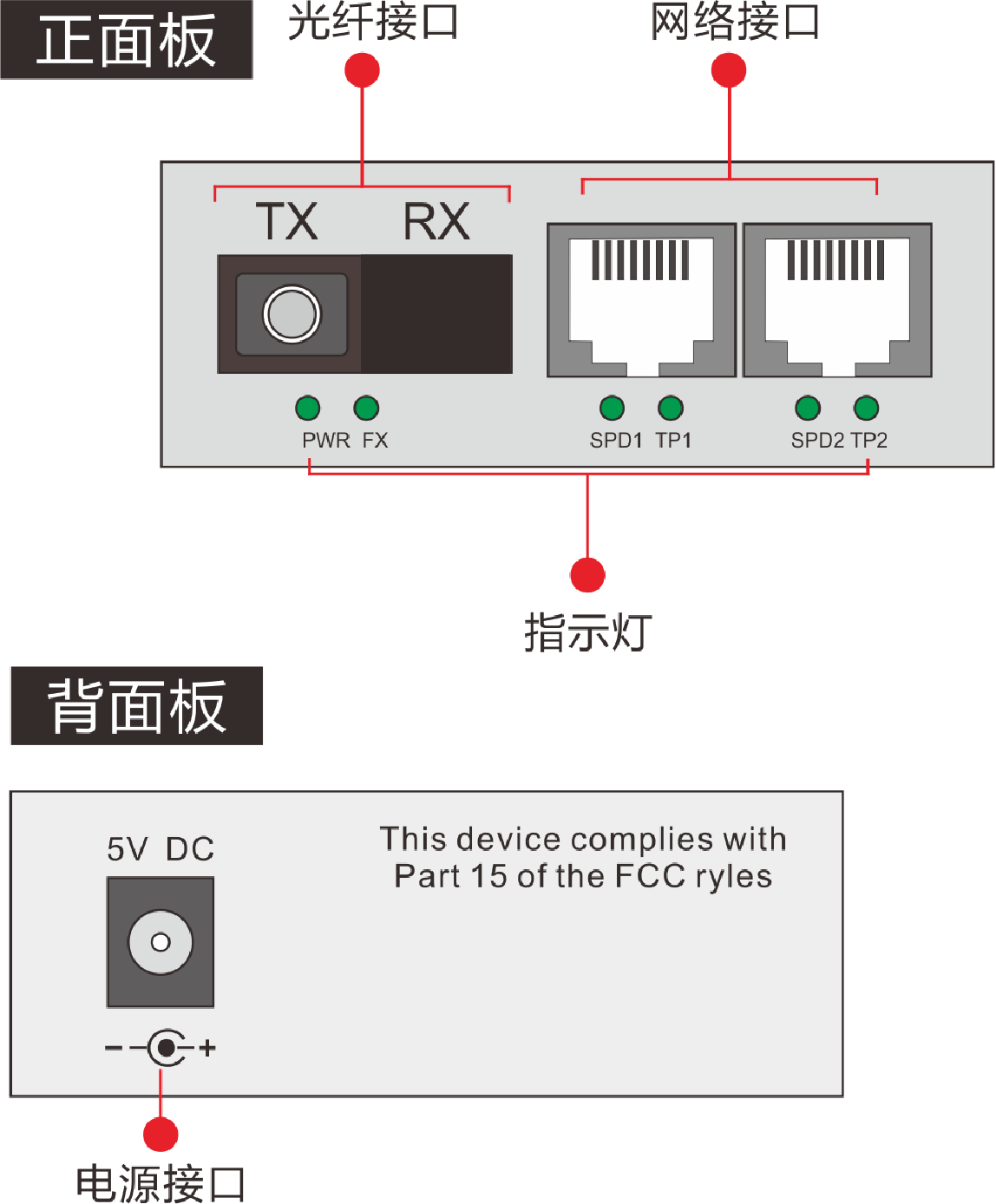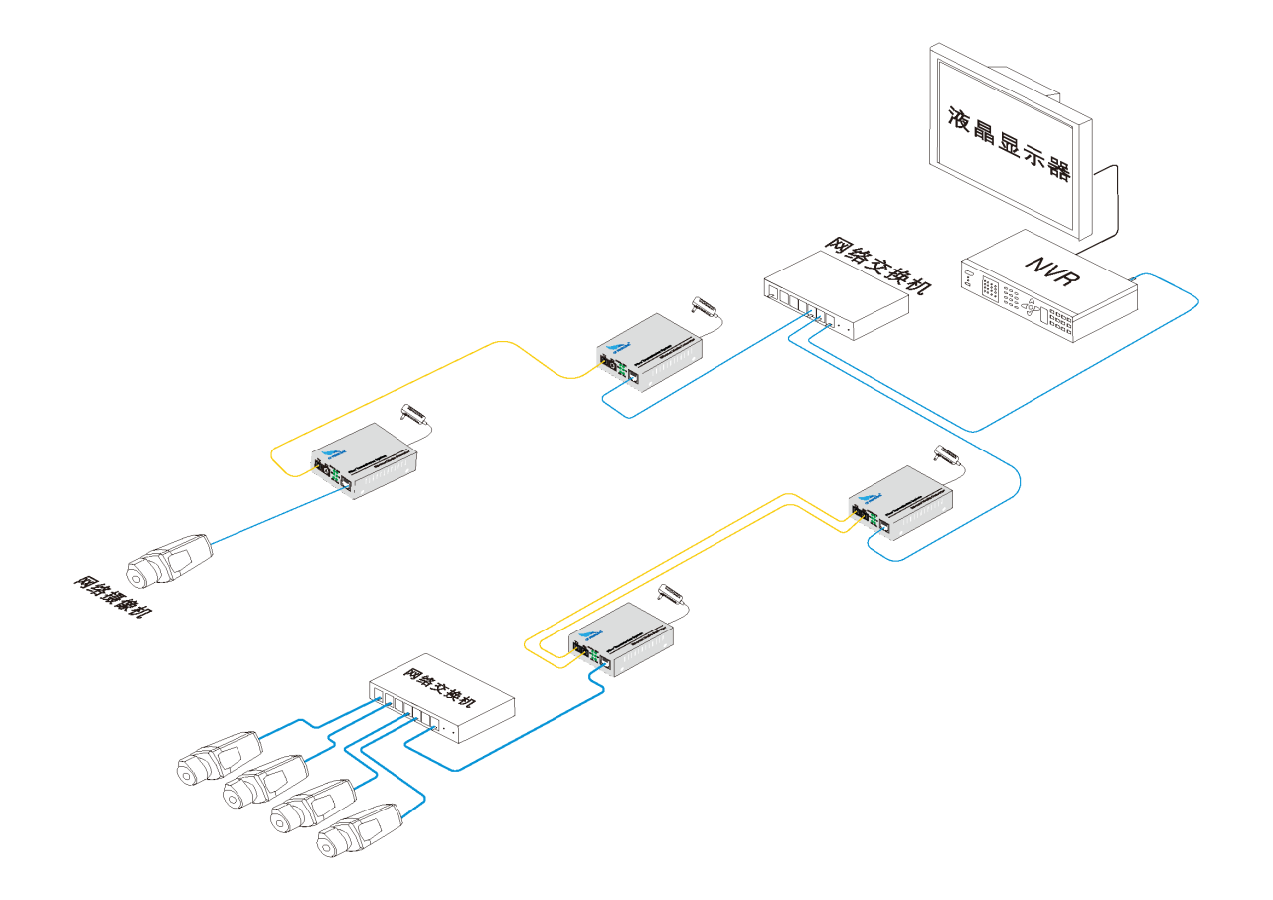 | | |
| --- | --- |
| model | CF-1022SW-20A/B |
| network port | 2×10/100Base-T Ethernet ports |
| Fiber port | 1×100Base-FX SC interface |
| Power interface | DC |
| led | PWR, FDX, FX, TP, SD/SPD1, SPD2 |
| rate | 100M |
| light wavelength | TX1310/RX1550nm |
| web standard | IEEE802.3, IEEE802.3u, IEEE802.3z |
| Transmission distance | 20KM |
| transfer mode | full duplex/half duplex |
| IP rating | IP30 |
| Backplane bandwidth | 600Mbps |
| packet forwarding rate | 447Kpps |
| Input voltage | DC 5V |
| Power consumption | Full load<5W |
| Operating temperature | -20℃ ~ +70℃ |
| storage temperature | -15℃ ~ +35℃ |
| Working humidity | 5%-95% (no condensation) |
| Cooling method | fanless |
| Dimensions (LxDxH) | 94mm×71mm×26mm |
| weight | 200g |
| Installation method | Desktop/Wall Mount |
| Certification | CE, FCC, ROHS |
How to install fiber optic video surveillance?
How to install optical fiber video surveillance? In the video surveillance system, the use of optical fiber transmission is generally far away, and the distance of more than 100m can be used for optical fiber transmission. The optical fiber transmission has the following features: wide frequency band, low attenuation, strong anti-interference, transmission It has the characteristics of high confidentiality, and briefly introduces how to use optical fiber to transmit video surveillance.
1. How does optical fiber transmit video signals?
In the long-distance video surveillance transmission process, the optical fiber transmission method is generally used. The optical fiber transmits signals in the form of optical pulses. Use the network cable to transmit to the terminal receiving device. The material of optical fiber is mainly glass or plexiglass, which is composed of fiber core, cladding and protective sheath. Optical fiber can generally be divided into single-mode fiber and multi-mode fiber. Single-mode optical fiber transceiver: the transmission distance is 20-120 kilometers; multi-mode optical fiber transceiver: the transmission distance is 2-5 kilometers. In the monitoring and installation process, single-mode optical fiber transceivers are mostly used, with long transmission distance, stable effect, and wiring. Convenience.
2. Introduction of optical fiber transceiver transmission
Optical fiber transceivers generally only transmit 802.3 standard network signals. The main chip is a network switch chip. The receiving and sending ends need to be paired to use A and B. They can also be used with switch optical ports, matching standards. The models at both ends are -T and -R, same port rate, same suffix (-A/-B)
When the transceiver is used,
Different indicators of transceivers represent different meanings. Taking common 100M single-mode transceivers as an example, TX and FX represent the optical port mode. If they are always on, it means that the network is working in 100M mode. If it is off, it means the network is working at 10M. Mode, link is the pigtail transmission indicator, normally on means the connection is normal, if it flashes, it means that the data is being transmitted normally, act means the network cable indicator, when it is normally on, it means the network is connected, when it flashes, the network cable data transmission is normal, FDX means the electrical port half-duplex, In full duplex mode, PWR is the power indicator.
---
---
Write your message here and send it to us